Yorkshire Business Masters 2017: The winners revealed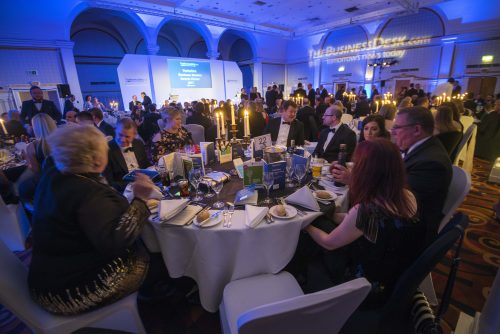 From major innovators, to excellent SMEs, overperforming exporters and upstanding professional services businesses, the business community came out in force for the Yorkshire Business Masters 2017 tonight.
Held at The Queens Hotel in Leeds, a packed room full of shortlisted companies and leaders came together to celebrate the crème de la crème of the region's businesses.
Hosted by TheBusinessDesk.com's Yorkshire editor Alex Turner and Nina Warhurst, BBC political editor, sponsors included Mills & Reeve, EY, Clarion, Bridging Finance Solutions and Progeny Corporate Law.
Click the picture to see the photo gallery from the Yorkshire Business Masters Awards 2017.
Alex Turner said: "The Business Masters Awards provide a great platform to showcase the best that Yorkshire's businesses have to offer. Tonight's event has been a fantastic evening, and I'd like to thank all the shortlisted companies for the amazing work they do, as well as our sponsors, without whom tonight would not have been possible."
Sponsors include:
…and the winners are:
Innovation – sponsored by Progeny Corporate Law, presented by director Alistair Scott-Somers
Winner: Lhasa
Cap hpi
Drax
Bemrose Booth
Maisa
International Trade – presented by Stuart Clarke co-founder and festival director, Leeds Digital Festival and Business Masters 2017 judge
Winner: J&C Joel
Cranswick
Brandon Medical
Bemrose Booth
the bigword
Contributing to the Community
Winner: Walker Morris
Dine
HR180
iSource
Ahead Partnership
Professional Services – Presented by Martin Allison, director at Rosedale Advisory and Business Masters 2017 judge
Winner: Clarion
Squire Patton Boggs
Shulmans
Wilson Field
Workplace Pensions
Small Business – sponsored by WGN, presented by Colin Glass OBE
Winner: Right Fuel Card Company
Ashley Bolser Agency
Azzure IT
We are Boutique
The Car Buying Group
Medium Business – sponsored by Mills & Reeve, presented by partner Paul Johnson
Winner: Southerns
Redfern
Shire Beds
Key Security
Tiffin Sandwiches
Large Business – Sponsored by Clarion, presented by senior partner Richard Moran
Winner: thebigword
Harrison Spinks
Karro Food
PTSG
Sky Betting & Gaming
Employer of the Year – Presented by Jonathan Straight, entrepreneur and Business Masters 2017 judge
Winner: Sky Betting & Gaming
The Right Fuel Card Company
Christeyns
Vital Technology
Charlton Morris
Fast Growth – Sponsored by EY, presented by executive director Catherine Reid
Winner: PTSG
The Car Buying Group
Southerns Group
Sky Betting & Gaming
Nexus Vehicle Rental
Ambassador
Steve Parkin