Review: Marco Pierre White's new Leeds restaurant New York Italian
Commercial director of TheBusinessDesk.com, Lee-J Walker, gives his verdict on Marco's New York Italian.
Chain restaurants are certainly not my usual establishments to frequent, so when I was asked to write a food review of the guy who's dubbed the first UK's celebrity chef, I was hesitant at first.
Attached as the restaurant servicing the Ibis Styles Hotel which self state they are 'cheap' at the Merrion centre end of Leeds, I kind of knew what I was getting myself into, a chain restaurant that's on a 'cheap' hotel.
On entering the place though, you're met with a well-designed nice contemporary looking small restaurant. It has the usually meet and greet "can I help you" desk with a large marble style raised large dining table in the middle next to the bar. It has those big comfy circular roundtables with cushioned seating and is decorated tastefully. I quite liked the feel to it. You wouldn't have thought it was the space where in the morning, the hotels guests ate their cornflakes bit it is.
Our host who met us Ciro Ciampo was a gentleman from the outset, a true professional Italian restaurant manager. Grabbing a beer at the bar for me, and a Bellini cocktail for Zoe my fiancée, we enjoyed a wet pre-dinner.
Once showed to our nicely oversized round table the obligatory UK Italian restaurant garlic bread was put upon us pre-starter to get us limbered up.
Ciro suggested as a wine we go for their Frascati Superiore vino blanco, which we took his advice on. Not a bad white to be fair but more a quaffing easy drinking wine. I have had better one's from this region that have been producing wine for centuries.
I went for the sticky ribs to start and Zoe chose the bruschetta, which I was amazed at her consumption of more bread considering we'd devoured a garlic bread the size of a small dustbin lid. They were okay but not fine dining of course. The ribs are kind of on a par with TJI Fridays or some other large chain.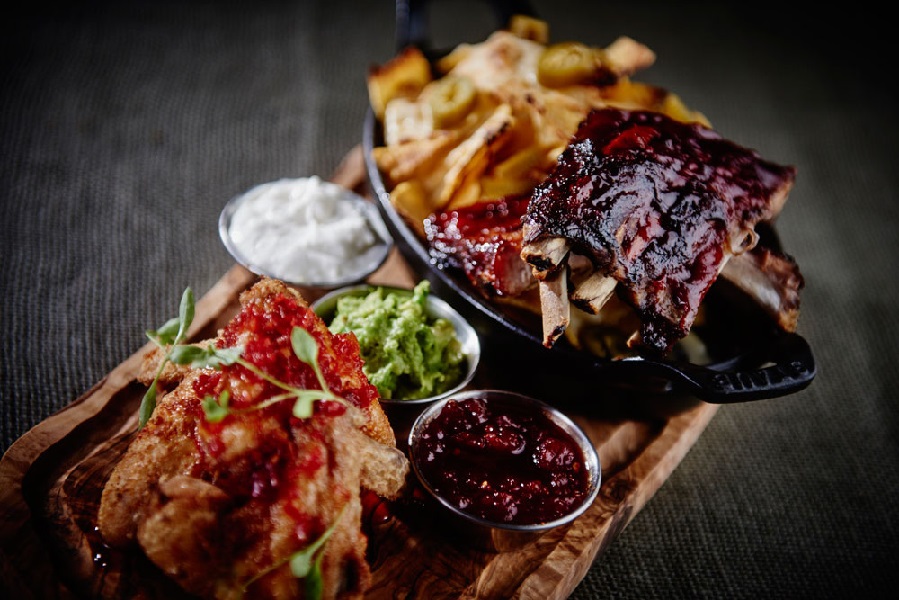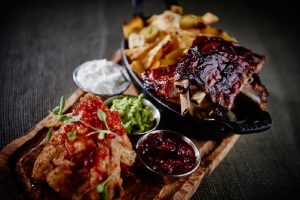 On to the main event, it was strongly advised I went for the Surf n Turf and so I did as I was instructed, a 10oz sirloin topped with unshelled jumbo shrimps and accompanied with rosemary fries. To be honest, I was expecting to be disappointed, I'm cautious usually on where I have my steaks but to be fair, it was good and I wasn't at all. It was slightly overdone for me but still very, much full of flavour and the rosemary fries were delicious and nicely salted.
My co-taster chose the Salmon steak alla Napolitano, a monster of a dish served up with spinach, capers, basil and olives, which was good. I did have a sample to make sure.
Both of these mains were big meals. They're the sort of mains you have when you don't have a starter and certainly not a big disc of garlic bread too.
I'd had enough food now to be honest so we relaxed and chatted with the friendly staff.
I think we were ready to leave but again our friendly host suggested we take advantage of the trio dessert for two, which included a tiramisu, a chocolate brownie with vanilla ice cream and a cheesecake. The brownie rocked, the tiramisu was not bad and the cheesecake was bland! I regretted the desert as now had killed my nice feeling for a feeling of too much food.
So, a mixed experience for the night but in summary; this is no restaurant for first dates, anniversaries or birthdays, it's an okay food joint for the family pre show at the Leeds Fist Direct Arena.
t's a good bit of food for a Saturday afternoon when out visiting the top end of Leeds let's say.
For a restaurant servicing a budget hotel, its good. Nicely decorated, great friendly staff, the food is good but not great as you'd expect but certainly a the better end of chain restaurants.
I'd go back for Saturday lunch for sure sometime.