Beacon of enterprise and innovation spreads its Northern wings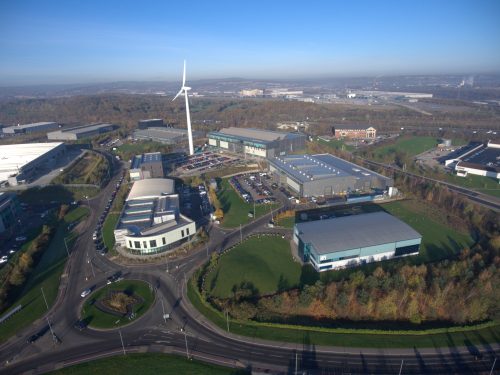 Hailed as a shining beacon of British enterprise and innovation, Sheffield's Advanced Manufacturing Research Centre is expanding its operations to other parts of the UK as it continues to drive the sector's renaissance.
The Samlesbury Enterprise Zone, which sits next to BAE System's Lancashire plane-making plant near Preston, is earmarked as the site for the new North West AMRC, in partnership with the world-leading Sheffield University facility.
The new centre will sit in the heart of the largest cluster of aerospace production in the UK, which employs thousands of skilled workers across the North West.
Construction work has also started on a £20m AMRC facility on Deeside, and the South Yorkshire centre has links with Scotland's international centre of manufacturing excellence near Glasgow.
Sheffield continues to reach its own landmarks. The operation, which includes the Advanced Manufacturing Park, is home to Boeing's first production facility in Europe and is where McLaren is developing a £50m Composites Technology Centre (MCTC).
When open, the MCTC will be home to only McLaren's second ever production facility and will be used to innovate the process for making the ultra-lightweight and strong carbon fibre tubs used in its sports cars and supercars.
In South Yorkshire, AMRC, which carries out world-leading research into advanced machining, manufacturing and materials, has more than 100 industrial partners, ranging from global giants Boeing Rolls-Royce, BAE Systems and Airbus to small companies.
It is a powerful story of research and innovation assets linked to universities making real strides in shaping the future of manufacturing.
The AMRC works with its partners to help improve productivity, de-risk investment decisions, and accelerate the early adoption of Industry 4.0 technologies to improve performance and quality.
It is a place where digital meets manufacturing, with world-class expertise in fields including augmented and virtual reality, robotics and automation, intelligent machining, digital twins and data analytics.
Professor Keith Ridgway, executive dean at the AMRC, worked with local businessman Adrian Allen to launch the project with Boeing back in 2001. He said that finding space to grow was a continuing challenge for the centre.
However, the cutting edge work continues to deliver results to help advance manufacturing shape the future.
He pointed to the work being carried out in fields such as alloys and composites. "We are seeing technologies coming in and changing the way we make things," he said.
Ridgeway added: "We are in a period of growth and expansion. We are looking forward to working closely in the North West with its aerospace and automotive supply chains. We are also interested in growing links with the nuclear sector. We see real opportunities."
Those opportunities include working on battery power technology in the automotive sector.
Ridgeway said that the creation of a North West AMRC facility makes both strategic and geographical sense.
"Draw a line from Sheffield to Preston and 20 miles either side of it you have a corridor of manufacturing stretching across the Pennines," he said. "You'll find some very good companies and it is very much SME driven."
He added: "Manufacturing is possibly getting a little bit more of a profile. What people don't realise is the additional work that comes on the back of it.
"For every manufacturing job there are two other people working in the service industries and they are only there because of manufacturing. People tend to forget that.
"We have had phenomenal buy-in from our partners. They bring huge research capabilities and brain power with them.  We are pushing back the boundaries all the time."
Ridgeway said major UK infrastructure projects should offer strong opportunities for the nation's manufacturers and engineers. His view is clear: "If we haven't got the supply chain, lets create it."
Laura Bennett, a member of the board of the Sheffield City Region (SCR) Local Enterprise Partnership, said: "The
city region has world-class specialisms in advanced manufacturing and is at the forefront of innovation.
"The SCR has invested £10,000,000 to help maintain the world-class capabilities of the University of Sheffield's Advanced Manufacturing Research Centre (AMRC) and its world class composite and light weight structure research facilities.
"This provides the AMRC with leading edge capacity in an area of growing importance to the aerospace and automotive sectors and provides equipment on which to undertake industrial research with commercial clients, including McLaren Automotive and Boeing who moved into the region just last year.
"With a strong public and private sector-led partnership, big ambitions for the future and a major programme of investment underway, we're a city region that's going places."
Phillipa Sanderson, partner and head of KPMG's South Yorkshire operation, agrees. She said the region is forging an international name for itself in advanced manufacturing excellence and points to levels of inward investment interest not seen in a decade.
That interest has been driven by the arrival of businesses such as Boeing and McLaren. She added: "It's not about soundbites, it is something tangible. Businesses want to be part of this manufacturing eco-system."