Aerospace supplier sees productivity soar through development in people
A tights-wearing caped crusader greets all those passing through the doors of Produmax's factory, declaring the Shipley base to be the home of engineering 'superheroes'.
These Yorkshire superheroes are flying. The aerospace supplier has seen its productivity increase by 34% through the development of its people.
We spoke to Produmax as part of our State of the Region project, click here to read more about manufacturing across the north.
Produmax was selected for the government-supported Sharing in Growth (SiG) transformation programme in 2014. Since then it has developed its business significantly.
Product lead times have been slashed from 31 days to 27 hours and turnover has grown over the last three years from £4.5m to £7m last year. It moved into its current premises two and a half years ago and is about to open a second site.
Produmax and its 71-strong workforce supply aerospace giants including Boeing and Bombardier. It exports 80% of the flight control components it manufactures overseas to markets including to the USA and China.
Mandy Ridyard is the company's finance director. She and her husband Jeremy bought the business back in 1997.
She said that getting a place on the SiG programme, which aims to maintain the UK's global standing in the aerospace sector, was the catalyst for the business's growth. It works to increase capacity in the supply chain.
Ridyard added: "We have done so many things, and it is all around productivity. The programme centres on leadership, engagement and technology."
Through it Produmax has created its vision and values and has worked hard to get the buy-in of its superheroes. Ridyard said: "It is about driving the right culture. The Superman sign is there to remind everyone what we are about."
The business has also invested heavily in equipment – on average more than £1m a year, some years much more than that, Ridyard said.
"We've just bought another facility in Shipley to start to look at some of the new technologies to take forward.
"Most people are scared of automation because they fear it is going to take their jobs. If you want to invest in automation then you have to invest in people. We've managed to automate and increase our headcount."
That includes digitisation of back office systems and installing sensors on machines to monitor how they are performing in real time.
The average age of the British engineer is 52. Three years ago Produmax's was 47, today the average age in its factory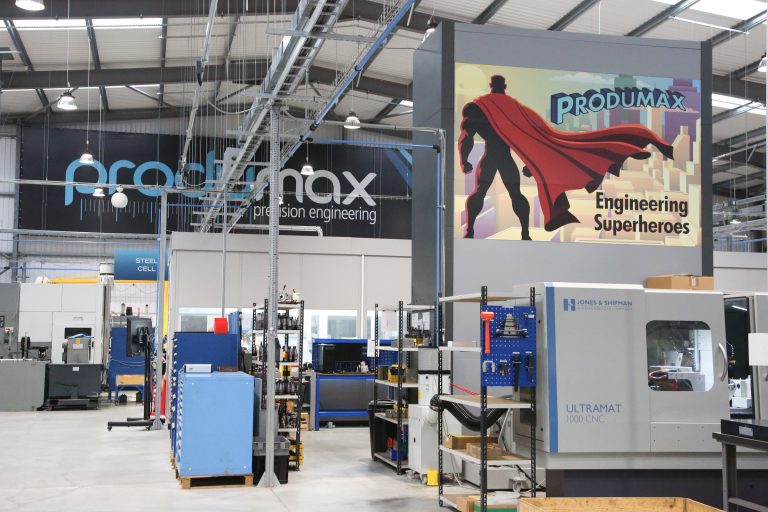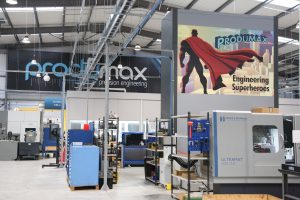 is 31.
However Ridyard said more is needed to make engineering and manufacturing more attractive to young people. Produmax is doing its bit, the company's premises look more like a design studio than an engineering shop floor.
She said a lot of the reluctance to look at engineering and manufacturing as a career is historical.
"If you look at kids today, their parents and grandparents don't have a good view of manufacturing as a career. They remember the old days of strikes and the belief it was a dirty job. We need to change that.
"As a company we engage with young people. We get involved with them from as young as 13.
"We want to make sure they see manufacturing and engineering as a good alternative to professions such as a solicitor or doctor. You need the same levels of brain power."
Produmax has what she calls "a proper work experience" programme, taking youngster through every department of the business. Its apprentice programme looks to involve parents and guardians as well.
Ridyard added: "We are not recruiting for specific jobs, we are recruiting talented people. The jobs we have here and now won't be the jobs we have in the future."
Looking at the wider aerospace sector Ridyard says there is opportunity for growth, though Brexit could be a threat. "The sooner it is resolved the better, it makes people more hesitant," she adds.
She would also like to see the government create a SME manufacturing deal as part of its industrial strategy, creating 'beacons' of best practice across sectors to help drive productivity.
"A lot of manufacturers work across sectors," she said. "Making them beacons would help each sector to up its game.
"It's about creating that ambition, to want to change and it's about showing people how they can change."