Open banking, addressing the skills gap and a customer-centric model key to the success of the sector
A group of business leaders working across financial services in Yorkshire debated the opportunities and challenges the sector at a round table chaired by Yorkshire editor Kayley Worsley and sponsored by KPMG and Squire Patton Boggs as part of the State of the Region project.
There is now a significant change in the way individuals businesses can handle their finances,  and a significant change is happening to the relationship customers have with the banks and other, more traditional, financial institutions. A major driver of this shift is the emergence of Open Banking.
Open Banking is an initiative which allows customers to securely share their own financial data, such as outgoing payments, spending habits and current account information, with other third party providers who can then complete transactions on customers' behalf.
Julian Wells, director of Whitecap Consulting and Fintech North, said: "Data is the big driver in fintech. The biggest theme in conversations we have is about Open Banking. But nobody really knows what this initiative could do.
"We can go from a place today where the banks have their own customers and own these customers, but because of Open Banking there is an opportunity for somebody else to come in and take the customer experience element, which could then mean they could own that customer's loyalty. If this becomes the reality, then it really doesn't matter who the bank is because you'll never have to deal with it.
"Banks will then see that there is a chance their customers will go somewhere else, which could mean they created new marketplace type approaches to try and retain these customers. But no one knows, and this might not even happen to anywhere near the effect we may think."
Richard Carter, managing director of Equiniti Credit Services, said: "It's about the democratisation of wealth management. One thing I would love is to go to one place and say 'this is me, this is everything about me, just sort it out'.
"If there was something that told you or gave you a little nudge, almost like a physical thing on my watch for example, that said 'if you stopped having that latte and that bun on a morning, and make your own breakfast, you would save £100 a month, that would help you pay your mortgage off three months earlier.' And I think that Open Banking will soon give opportunities like this to users."
"I think financial services ultimately needs to go to a single place."  
Georgina Mitchell, chief operating officer at Rebuilding Society, also highlighted the downsides of an relatively-unknown initiative such as Open Banking.
She said: "The danger is that everybody decides to do it and then people will just get confused. 'Do I go to my independent financial advisor to ask about my banking? Or do I go to my bank to ask about my mortgage?'
"We need to see if Open Banking can deliver everything for customers."
She added that her main challenge as a peer-to-peer lending platform was access to finance and then scaling up the business.
The roundtable participants also discussed recruitment and retention in the marketplace, the emergence of the challenger banks and the way they operate, innovation and the importance of having a customer-centric business.
They debated the need for both young and old institutions to recognise the importance of the customer experience. Pheasey, of Marsden Building Society, said: "There cannot be complacency in the sector. Having 160-plus years in business is not a guarantee to success."
Lorna Allan, director of IT at Hitachi Capital, agreed, stating: "However successful the route to market, the product will be key to delivering success."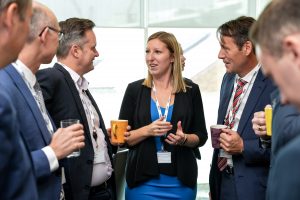 Michael Atack of KPMG added that the likes of Atom Bank would be a key indicator, as a challenger that had a "strong social purpose." He added: "For all of the disruption and innovation, the customer is very much at the forefront."
The group discussed that skill sets were able to be moved around sectors and that people were no longer set on being in a career in a specific  sector, and that retention and internal progression was the way to address this; and to combat the skills gap.
Paul Grace of CYBG said that the "flight risk" of staff moving moving on was now higher, with people moving on between three and years years into their employment, and that it was about offering the right access to skills. "Banking used to be a job for life," he added.
Allan added: "The expectations are changing. It is absolutely an employees market."
Andy Thompson, managing director of Sandstone Technology, echoed these statements as he said that retaining staff members "is one of the biggest challenges" in the current marketplace.
Carter also described the new workforce as "potentially quite flighty as to where they want to move." He pointed out that with the likes of  William Hill and Sky in the region, there is plenty of competition.
To address this issue, Atack said that it is important to "look at the roles University's play in attracting the right people. Historically Leeds has a high student population, so there is definitely a role universities need to play."
Mitchell agreed, and pointed out that "graduates need to realise there are a wide range of financial services and fintech roles in Leeds."
Wells added: "Ten years ago, the one piece of advice I would give to young people to help shape their career would be to go to London because this will open up a lot more opportunities. But now I have stopped saying this because there is so much going on in the region."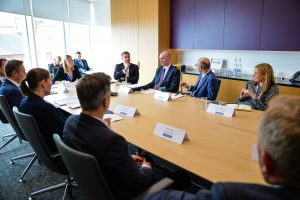 The group then went on to debate how Leeds and the wider Yorkshire region is seen as a powerhouse in this section, and how the financial services and fintech sector can survive outside of London.
Mitchell said: "We need collaboration in the sector. Leeds isn't going to compete with London, Manchester isn't going to compete with London, but together the cities might have a chance."
Nick Smith, sales and marketing director at Reward Finance, added that the key is to working together with other regional players. He said: "As Leeds already has the likes of Sky Bet and William Hill, there is no reason why the north can't attract more big companies from London and the south.
"But this has to be done by working with other regions."