Businesses urged to address the skills gap and 'talent recycling' with apprenticeship programmes

X

Register for free to receive latest news stories direct to your inbox
Register
The skills gap and lack of talent availability was one of the hot topics at the Apprenticeship Levy and Skills roundtable, when one business leader said they were looking at ways to avoid the constant "recycling of talent."
TheBusinessDesk.com hosted a roundtable discussion on the subject, in conjunction with Alliance Manchester Business School, attended by senior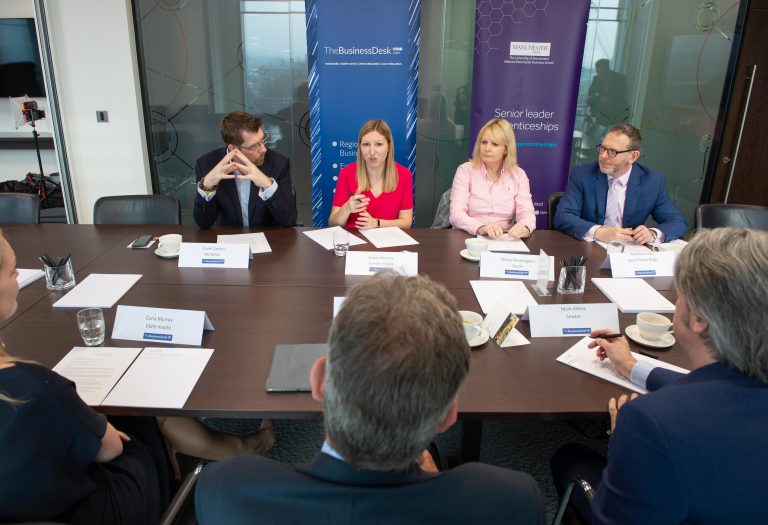 HR directors and leaders from across Yorkshire businesses. The group discussed the opportunities and challenges brought about by the introduction of the Apprenticeship Levy in 2017.
Since 2017, business with a pay bill of more than £3m annually have paid the levy and SMEs have been given the opportunity to pay 10% of the cost of the course for a staff member to complete an apprenticeship course.
Carla Murray, Head of Resourcing, Talent and L&D at EMIS Health, which employs around 3,000 people, said: "We have done apprenticeships, many years before the levy – so in many ways we are quite traditional.
"In terms of the importance of apprenticeships, we are predominately a software company and it's no surprise to anybody that we are finding that the opportunity to get new people through is very minimal. We find that we are consistently recycling talent.
"There is a circuit as you can imagine, and we're keen to get off the circuit. And the only way that we can really do that is if we either develop our own people – who maybe want a career change into software – or starting the process through external hires."
Frank Clayton, Group Head of Learning, NG Bailey, mechanical and electrical contractor, said the firm had been delivering apprenticeships every year
since 1934. Clayton said: "In construction and engineering, we have a huge skills shortage and a real challenge around how we continue to build the infrastructure that we all so very badly need in this country.
"Apprenticeships, for us, are a really great way of addressing that to the standard that we know we need, particularly as we start to venture into areas such as nuclear, where the exactitude of somebody's ability is pretty important."
Mark Atkins, Director of Business Development at Sewtec, said the levy was "extremely important" but added that schemes needed to be tailored to each business.
Atkins said: "What we're finding, is that we are struggling with the specialist roles and particularly coming out of university, where we need to retrain people.
"It is a massive piece of work – especially with the skills shortage – which is not being fulfilled still. The framework and the levy really need to sort itself out and we [businesses] need to be part of that."
Sarah Armitage, WSP, said the firm has an internal programme as well as using external providers. "I'm in the ideas industry and my business is about innovation and passion and we see a lot of enthusiasm and passion from our apprentice candidates. That's something that we want to foster throughout our business in order to develop and grow."
Matthew Lewis, Partner and Head of Employment Practice at Squire Patton Boggs, said: "There is a skills shortage. I think that the good thing about the apprenticeship levy is that it has made people focus on apprenticeships more so than they've ever done so beforehand. But I think it also seems to me that lots of people are saying it's inflexible, and then there needs to be much broader view on how you can apply the levy to get the best out of that skills shortage being experienced."
Marisa Waddington, HR director Zenith, which employs around 750 people and has been working with apprentices for around five years, said: "I
guess our challenge is that we've been successful in the fact that most of our apprenticeships are service based. So we find a lot of people coming from schools want to do that, and can relate to that. But the challenge is there aren't enough coming through for what we would like to do. And we're very keen to nurture young talent and to give good careers to people."
Atkins added: "Lot of times, people forget that apprentices are learners and the whole idea is learning but they are seen as employees. You have to have conversations with managers to explain that they are here to learn and have different rights.
"It's not just about having a job – it's about a learning opportunity. There needs to be masses of education for schools and businesses.
"It's about working with a good provider and setting your own framework up." Atkins said modern apprenticeship were about having a variety of subjects and sectors involved, which would help to address the skills gap overall.
The group agreed that schools needed to offer career advice that included apprenticeship options in order to address the skills gap, that can then be developed through further development opportunities.
Atkins said he was inundated about work placements but none about apprentices. He added: "We're flying as a business – but we can't get enough staff. We are having to keep customers at bay.
"When it comes the specialist people, we can't find them. That's where I've got to get the graduates in, to then invest in the apprenticeships so they are future proofing their roles."
Lewis said: "Businesses have to reach out to schools because if you wait for schools to reach out to businesses, otherwise it just won't happen."
Sarah said it was important to give people opportunities to people at an early age so that they can plan their studies and that they needed guidance to be able to set them up.
Retaining staff
Waddington said the firm's workforce consisted of 6% apprentices and that will increase to 10% by 2020. "When I look at the turnover, they haven't left us," she explained. Whereas I would have said that somebody perhaps that worked for us for couple of years would have left us by now. I think it's because they are hungry to learn, they are in a support network and they're able to then move on to the next apprenticeship.
"They're constantly being developed. Actually, you don't do that within a 'normal' employee. They come in and have already had the training from somewhere else, and they just expect to progress."
Dr Lowe said that through the level seven apprenticeship levy schemes, workplaces could create a mechanism to retain 'normal' employees.
Waddington agreed, adding: "We need to be focusing on the people that are here and using the levy to up-skill on the management side."
Dr Lowe added: "With apprenticeships, that there's a real opportunity here. One thing we've done is to look at the level seven leadership course and designed a program specifically for it.
"So we've got eight modules, six of them cover the standard – that allows us flexibility. There are two additional modules that we can work with organisations on their key problems, for example, so it is possible to customise for certain sectors. Our first cohort was a group from the health sector. We've been able to include a couple of modules that are specific for the health sector."