Getting past the apprenticeship taboo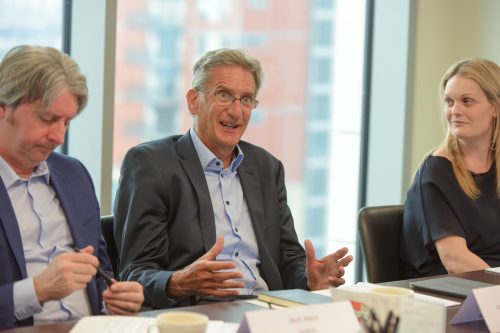 X

Register for free to receive latest news stories direct to your inbox
Register
By Dr David Lowe, Programme Director, MSc Management Practice, Alliance Manchester Business School
We're aware of the impact that highly trained and qualified leadership teams can have on productivity and performance for businesses of all sizes. It makes sense, therefore, that equipping technically talented 'accidental managers' that undoubtedly make up senior teams in many organisations with enhanced management and leaderships skills can undoubtedly lead to positive results.
Why then is there still a reluctance for many businesses to see the Apprenticeship Levy as anything other than a vehicle to provide opportunities to new starters and school leavers? The problem, HR leaders suggest, is to do with the way apprenticeships have been traditionally promoted and perceived.
What we've seen since the Apprenticeship Levy was introduced almost two years ago is an increasing focus on the idea of apprenticeships from Levy paying businesses. However, in reality for many organisations the process is still relatively new and there is still a misconception that apprenticeships are just for 16-25s at the start of their careers.
Clearly this is a key element of what apprenticeships should be, but this assumption, and the government's continued focus on promoting lower level apprenticeships – has fostered a stigma around higher level apprenticeships.
Overcoming negative perceptions
The idea that apprenticeships are solely aimed at school leavers and career changers means that the word 'apprenticeship' itself still has negative connotations for senior people.
Clearly this will result in an unwillingness to engage in the senior leadership opportunity – senior leaders simply don't want to be seen as an apprentice.
However, if we can remove that stigma and get businesses and leaders to recognise the opportunities the Apprenticeship Levy offers in terms of strategic management that feeds into company productivity and supports career progression at the top end of the ladder, the potential for business growth and indeed job creation could be significant.
There is certainly a task to be done in gaining balanced opinion around what an 'apprentice' looks like in 2019 and the fact that carefully crafted leadership development opportunities are now accessible under the levy system – mean options exist to help the UK close its significant managerial talent gap.
Taking time out
Navigating the 20% off the job time requirement of apprenticeships is another significant factor to overcome. For many managers, there remains a fear that they will need to reduce their full time role into four days a week to fit in their leadership development. However, senior level apprenticeships are rarely this black and white.
Close collaboration between business, individual and education provider enables flexibility to create a tailored plan that utilises the 20% time to initiate projects that might be outside of their usual role or scope, but that add value to the business and the individual alike.
A partnership approach
For SMEs that don't pay into the Levy in particular there are even more misunderstandings which must be overcome. Many are still not aware that their employees can access senior apprenticeships at only 10% of the usual cost of gaining that qualification. Likewise many are not aware that larger companies that do not utilise all of the money in their levy account, can share funds with smaller businesses.
Many SMEs are actually taking a step back from apprenticeships as they feel like support is lacking for businesses outside of the levy. For those in smaller businesses, the level of personal commitment required by MBA and MSc courses along with the idea of 20% off the job time is a daunting prospect.
This is where working with the right provider is essential. There's no such thing as a one size fits all approach to senior leader apprenticeships and nor should there be. In reality every organisation is different, and this means that any training at senior leader level needs to reflect the individual needs of that business and the nuances of the sector in which it operates.
Working with a provider that allows senior leaders to select elective modules around specific business needs can be essential to bring those 'accidental managers' on board with the opportunities offered by the levy.
Senior leaders need to see some kind of immediate return on their time investment when undertaking executive education. It's not enough that these learned skills will pay dividends in years to come, managers must be able to address real life issues within the apprentice's organisation.
While traditionally apprenticeships have been used as a way to bring in new, energised talent, it is now time for businesses and providers to work together to reorient those further along in their careers about the opportunities the 'A' word can offer to themselves and their business now and in the future.
For more information about the Apprenticeship Levy and courses for managers and leaders, please visit Alliance Manchester Business School.