Call to remove political boundaries and recognise 'world-class' capabilities across the north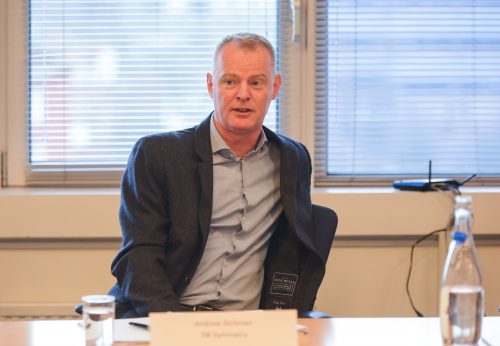 X

Register for free to receive latest news stories direct to your inbox
Register
City regions across the north should not be constrained to political boundaries when looking to recognise the 'world-class' capabilities that are located in certain cities and towns, according to business leaders.
As part of TheBusinessDesk.com's Leeds City Region roundtable discussion, sponsored by Weightmans and DB Symmetry, participants discussed the fact that certain cities and town across the whole of the north should attract and retain certain sectors to become "centres of excellence."
Andrew Dickman, DB Symmetry director, said: "If you think about things in political boundaries, you create borders. Occupiers aren't looking for looking for borders – they are looking for the things that are important to them. Whether that's in Durham or Derby – they will go to where it is right."
Henri Murison, chief executive of the Northern Powerhouse Partnership, said it was about ensuring signposting properly across the north to understand that world-class specialisms fit in certain areas of the north. "The external positioning needs to include all the strengths and the genuine world-leading capabilities. If you are going to agglomerate economies, that's great, but you're still going to have specialisations.
"We have to be confident enough in actually having those grown up conversations."
He said it was crucial regional neighbours recognised each other's strengths and signposted to each other when investors were interested, in order for the whole of the north to benefit and to create and build up "centres of excellence".


Angela Barnicle, Chief Officer – Asset Management and Regeneration, Leeds City Council agreed and shared facts around the cutting edge health innovations coming out of the Leeds City Region. "In terms of world class capabilities, for healthtech we have many examples right here."
Murison added: "It is about accepting each other's strengths and recognising them because then the businesses can start to pull that resource because it's only available in a certain area. It is starting to happen so much more. To us it is about those grown up conversations."
Dr Martin Stow, chairman and director of Nexus at the University of Leeds, said: "From a Northern Powerhouse
perspective, it's about us being very clear about what our strengths are and being sector specific. Making sure that we [city regions across the north] are seen as working together and making sure that we're helping businesses make the right decisions.
"If you are multinational US business thinking about Sheffield, Manchester, Leeds  – you don't know much about any of those cities, but it's about how we direct  them. It's about ensuring that they make the right decisions and have a positive experience here and ultimately they will invest more money into the region. I don't think we're very good at that.
"From a university perspective, I think that's quite a challenge as well. We get into this situation where, as opposed to saying how do we work together in a complementary fashion? – it tends to be, are we competing with Manchester or Sheffield? It is that overall Northern proposition that I think we need to work on."
Nick Quin of Yorkshire Building Society said: "I think it's about being genuine about who we are. One of the things in in finance, one of the strengths we have in the region is the mix of professional services.
"We have three of the largest building societies in close proximity.
Dickman added that the northern's economy was huge in terms of its world ranking, around the same as Beijing in terms of value. "So it's pretty meaningful. It has the capacity to be a mega economy if it thinks of itself as one thing."
Charles Johnson, head of planning development at Leeds Bradford Airport, added said that the stations and ports into the region needed to be excellent in order for "investment to stick."
He said: "You want the front doors into the region to be absolutely 100%. You never get a second chance to make first impression. It's very important."
Murison said: "Ironically I think the London/South East audience understands the Northern Powerhouse less than the Chinese and Indian audience."
He added that the aspirations for the Leeds City Region to have long-haul connections through the airport were right. He added: "Because I do think the idea that – and it's it is a failing of the government – every trade group of people the UK Government bring, they take them to London first."
"For someone who's interested manufacturing, what has London got for them?"
"I think particularly the way that the LEP, through the NP11 and also with the city leaders, are getting much more serious about taking more control over how trade and investment works is encouraging.