Technology: a win-win for the legal sector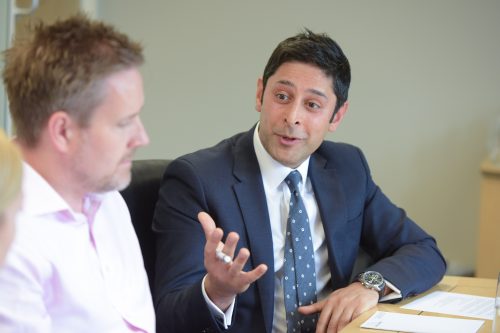 By Zeeshan Hussain, Director, Progeny Law – part of Progeny Group.
While the draw of London and its access to talent and funding can often be hard to resist, it's clear funding can go further if you look further north and we are seeing real success stories proving the region's technology scene is booming.
Progeny recently attended TheBusinessDesk.com's roundtable exploring the technology sector in Yorkshire, examining how technology has helped local businesses to develop expertise, retain talent and overcome the challenges of data protections/GDPR.
The traditionally cautious legal sector was a relatively late adopter of technology. However, this is now changing and there is recognition across the sector of the need to embrace technology and the impact it has on the sector. Rightly, in response to the changing expectations that we all have about the use of technology in interactions and the flexibility and speed it enables, lawyers have also embraced the varying opportunities that it can provide.
Investment in technology has been huge throughout the sector and now many are reaping the rewards. Areas that have been particularly quick to be embraced and have already had an impact include; automation tools which have reduced administrative burdens such as billing and secretarial processes; cloud solutions which have enabled much greater ease in agile working for lawyers and document sharing; and AI research tools, such as keyword search tools, version control tools and tools to rank the relevance of documents, have introduced efficiencies and competitive advantages.
AI in particular has the potential to be a massive time-saver for law firms. It can handle dull, repetitive tasks and means lawyers have to spend less of their time trawling through endless files. Instead, computer programs can read documents, interpret them, and identify relevant results – all in a matter of minutes and on occasion, given the volumes involved, with better results. While this does replace some of a lawyer's work, it also makes legal work more interesting, freeing up lawyers' time to do analysis, spend time with clients and provide legal advice.
However, there are also clear risks that technology can open a firm up to, and more so than some other sectors due the confidential and often financial nature of the work. Law firms, like any business, need to be  vigilant, and we take it incredibly seriously, especially around data protection and ensuring that all our processes are GDPR compliant. By understanding the challenges to the integrity of the security systems, firms can adopt practices that minimise risks and keep firms as secure as possible.
Underpinning all of the successful uses of technology is the skills and training of staff. Whilst having access to the right tools is important, ensuring that the firm holds the necessary skills is fundamental. From a risk mitigation perspective, but also to be able to gain the maximum benefit from the investment in technology, taking your people on the journey of adopting and  understanding the value it provides is really what enables it to be fully utilised and for all to benefit.
Importantly, the impact of this change is most acutely felt by clients. As a result of this technological advancement there have been huge shifts in the way the law firms interact with clients and what they can now expect in the form of faster responsiveness, more flexibility, increased transparency and greater cost efficiency.
All of the factors mentioned mean that clients now enjoy a much more hands on approach from lawyers, without a material increase in the fees that they are charged. It is noticeable how this development has led to a strengthening of client relationships and a greater appreciation of the service rendered.
The adoption of technology is therefore a win-win for the legal sector.  For lawyers, it provides the freedom to focus on providing excellent client service and advice; and for clients, the reassurance that they are getting a truly dedicated service and return on investment. While as we innovate and expand our own services, it's great that we can use this increased capacity to work alongside such interesting local clients equally hungry for growth.