Weekender Interview: Yorkshire Yurts founder, Tom Sterne

Yorkshire Yurts is entering its tenth year of operation and its founder, Tom Sterne, has his sights firmly on growth by ensuring that the business is successful all-year round.
Ripon-born Tom Sterne worked as a chartered surveyor specialising in the sale of commercial and residential development sites. But at the peak of the credit crunch, he was made redundant in 2009. At this stage, he decided to go travelling to understand what his next steps would be.
Having always dreamed of running his own business, it was on a safari trip to the Masai Mara in Kenya which inspired Sterne to embark on an entrepreneurial journey, turning his expertise and new-found love of yurts to offer a luxury camping experience in Yorkshire in 2010.
Sterne said: "The Kenyan's have really mastered the art of luxury camping on safari holidays with some amazing five-star tented lodges. Having loved camping and the great outdoors, I instantly fell in love with the yurts and I thought they would be perfect for the UK market.
"As well as being extremely beautiful, the yurts are practical and warm with the wood-burning stoves. There is also something enchanting about being inside a yurt at night."
One of the oldest shelter structures known to man, yurts are circular wooden framed tents which originate from the high mountain steppes of central Asia.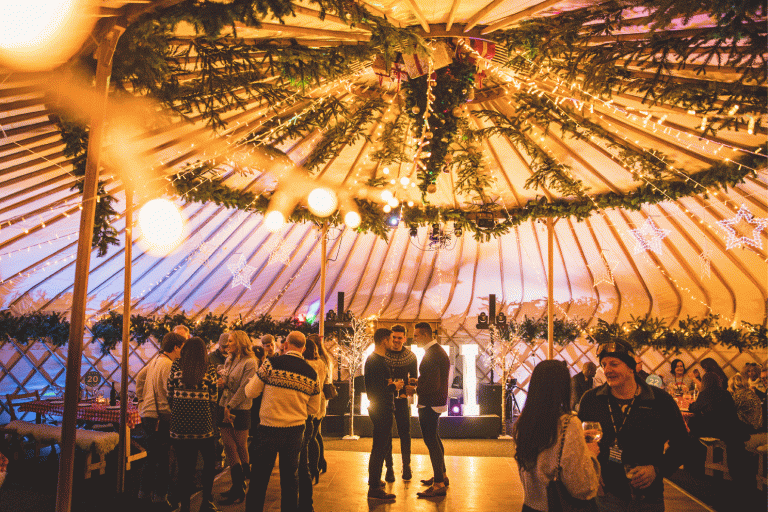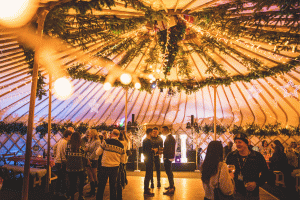 Offering a sustainable 'glamping' experience, 'Yurtshire's' first site launched just outside Fountains Abbey. People flocked to enjoy yurt holidays in Yorkshire, and with requests to hire the yurts for parties and events, Sterne organised his first wedding in a yurt in 2011 under the brand Yorkshire Yurts.
Sterne appointed his first recruit in 2012 and seeing the business grow over subsequent years, employees and a range of handcrafted yurts continued to grow too.
The business provided hundreds of weddings, parties and events – including featuring on ITV's Cold Feet – through the peak seasons of spring and summer each year.
He the realised he needed to turn his attention to creating a business which continued to thrive in the quieter winter months.
In 2016 Yorkshire Yurts expanded to offer a festive experience in a series of yurts each Christmas. The 'YurtBar' Christmas parties which have popped up at Moor Allerton Golf Course in Leeds throughout December each year have been a roaring success, filled with thousands of party goers.
YurtBar provides both businesses and individuals with an unforgettable Christmas party experience in beautifully handcrafted yurts with stunning surroundings.
Sterne added: "Taking inspiration from the snow-capped peaks of the Alps, YurtBar is an Apres-Ski themed party which creates a magical winter wonderland complete with pine trees, roaring fires and cosy sheep skin rugs and bold alpine interior design."
The success and excitement of the last three years has snowballed and it is gearing up to return to Moor Allerton Golf Club for Christmas 2019.
As the business enters its tenth year it has ambitious plans to continue to expand. It now employs five full time team members as well as 16 part time and Sterne plans to bring YurtBar Christmas parties to other regions across the UK from 2020.