Succession planning: In it for the long haul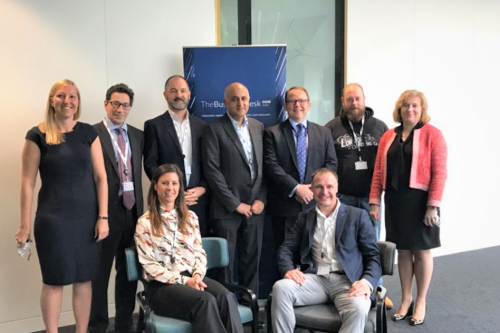 Succession planning and access to finance are two of the big challenges facing family-run businesses in the North.
And a BusinessDesk.com round table earlier this year highlighted how family business leaders are working hard to meet those challenges.
Richard Donner has worked at his family business, The Wakefield Shirt Company, for over half a century.
Looking at succession planning he said that the family had bought out family members along the way to keep the structure smaller and manageable.
He said: "In doing that we have kept people in the company who are interested and dynamic.
"We have always said that we wanted to be the best company, not the biggest company in the world. There is not much benefit to a family business in being huge."
Polly Staveley is managing director of fourth generation family insurance business TL Dallas, which is headquartered in Bradford and is celebrating its centenary.
She said that succession planning was the company's "biggest challenge". That included matching family skills to the jobs in the company.
Hannah Kendrick, who leads Squire Patton Boggs' Leeds corporate practice, said managing what the roles in a family business are and who is in the right roles could be a problem. It is recognising that someone brings a certain set of skills."
Talking about the importance of a "common purpose" she added: "Managing how these all fit together the jigsaw for the common purpose is really delicate."
She also spoke of the importance of non-family members and their input. "The right thing for any business that is looking to grow and expand is to bring in the right skillsets.
"One of the challenges is letting go of the reins a little bit. It is also about incentivising and engaging people in the right way.
"Succession planning is a recurring theme. Thinking about what he future looks like. That is something that should be constantly under review.
"It is not necessarily the right thing to have somebody at the helm because they have got the right surname."
Kendrick added: "In a family business you're building on the foundations the prior generation has created. You are concerned with custodianship rather than ownership. You feel that you are continuing the good work.
"It means that you take a longer view and look to make sure everyone is coming on the journey, whether they are family members or employees."
Ian Beaumont, partner at KPMG whose Leeds office hosted the event, said: "Succession planning is a real issue. It is a journey. Most family businesses don't fail because of succession, they tend to fail because of the loss of common purpose."
He added: "As you move through the generations the challenge is to that you all understand what you are in business together for."
That isn't made any easier by the fast change of pace facing businesses today.
Beaumont says: "Increasingly the challenge is to find the right skill set for family members coming into the business that will be relevant for it going forward."
Family businesses can also face challenges as they look for finance. John Slumbers, operations director at Huddersfield-based Lords Brewery, a first-generation family business, said he didn't have any trust in banks. "They just want to invest in big business," he said.
"The money we have got has come from the private sector. When we went to banks at the start they literally laughed at us, but now they want to talk to us."
Naveen Ahmed, founder of Leeds-based Parklane Properties, said he felt smaller firms received a lack of support and that big businesses were dominating. "It's not an equal playing field," he added.
Beaumont says most family businesses take a long-term sustainable view, which allows them to fund their growth through internal resources.
The challenge comes when they need fast access to funds because of disruption in their markets and need to move quickly, perhaps to invest in new equipment or processes.
Family businesses can be seen as a less attractive proposition to private equity – owners may be reluctant to give up a stake and they are also in the business for the long-haul.
Beaumont said: "A lot of private equity funders struggle to see where they get their ultimate end return on capital, because family businesses generally don't sell."
He added: "Family businesses don't respond very well to dramatic change."
There are other avenues to funding, including banks and asset finance. However, Beaumont says there is another route that is becoming popular.
Growing numbers of families are building 'wealth funds' and are looking to diversify the risk away from their business. And that is opening up opportunities for them to invest in other family businesses, he says.
"We are seeing family businesses going to family businesses for funding. They take a less short-term view than private equity and have a greater understanding of the nuances," he added.