Coronavirus update: the latest news from Yorkshire businesses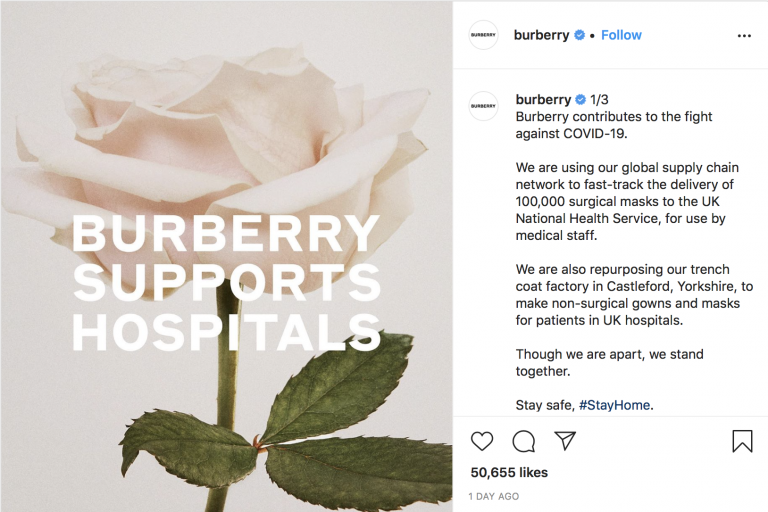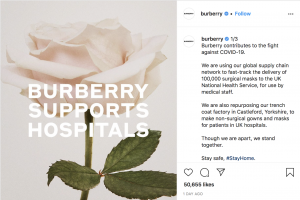 Fashion brand Burberry has announced it is retooling its trench coat factory to support the UK's fight against Covid-19.
The firm plans to to make non-surgical gowns and masks for patients at its Castleford-based site, however both production and distribution will be subject to approval from the Medicines and Healthcare Products Regulatory Agency (MHRA).
Alongside this Burberry has said i6 is also: utilising its global supply chain to deliver over 100,000 surgical masks, funding research into a single dose vaccine developed by the University of Oxford, and donating to charities across the UK to help tackle food poverty.
Marco Gobbetti, CEO at Burberry commented: "In challenging times, we must pull together. The whole team at Burberry is very proud to be able to support those who are working tirelessly to combat COVID-19, whether by treating patients, working to find a vaccine solution or helping provide food supplies to those in need at this time. COVID-19 has fundamentally changed our everyday lives, but we hope that the support we provide will go some way towards saving more lives, bringing the virus under control and helping our world recover from this devastating pandemic. Together, we will get through this."
:::
The Wensleydale Creamery, based in Hawes, is supporting local businesses by developing its online mail order offering so customers can get their favourite cheeses, local produce and gifts delivered direct to their door.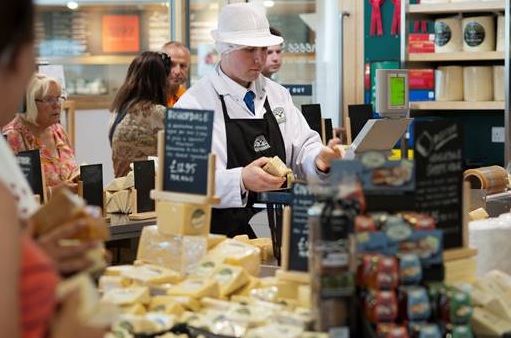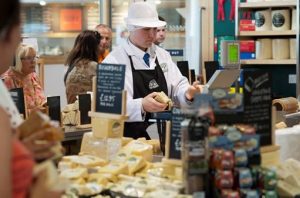 Recognising that customers are unable to travel to its popular Visitor Centre, the business is bringing its offering to customers' homes by launching a new 'Online Deli' section on its website.
The Online Deli features all of the creamery's products alongside a large selection of local produce from crackers, chutneys and oils to biscuits, sweets, chocolate and fruitcake, for purchase online and delivered directly to homes.
Trish Cannon, visitor centre director, Wensleydale Creamery, said: "Here at Wensleydale Creamery, we are determined to do whatever we can to bring happiness to homes and support our customers to get their favourite cheese delivered to their door.
"Whilst supermarkets are facing increasing demand and pressure, we don't want to see people go without the everyday essentials – we hope our online deli will ensure everyone is able to easily access our award-winning cheeses, as well as supporting other local Yorkshire businesses whose delicious food products and locally-made gifts are available through our mail order."
:::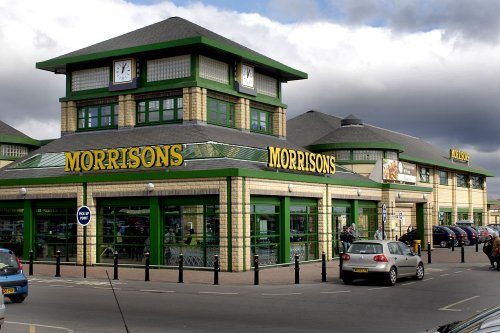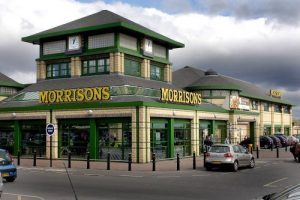 Supermarket, Morrisons will distribute £10m worth of food to the UK's food banks during the coronavirus outbreak by increasing production of fresh items from its own manufacturing sites and the number of deliveries from its stores.
According the The Guardian, the Bradford headquartered firm will increase production by an extra hour a day at its 14 production sites across the UK in order to help restock food banks.
David Potts, chief executive of Morrisons, said: "As a food maker and shopkeeper we are uniquely placed to help. We know food banks are finding life very difficult and running our manufacturing sites for an extra hour each day to help restock them is the right decision at this time."
The store is also transforming its closed in-store cafes into donation hubs and will be removing increasing purchase limits to encourage customers to donate to food banks too.
:::
A group of Yorkshire chefs are joining forces with businesses and residents to help provide food for hard-pressed NHS workers after seeing an impassioned online plea.
Their initiative was prompted by NHS worker, Dawn Bilborough, who was unable to buy food in her local supermarket after completing a 48-hour shift.
Food4Heroes was launched by Amanda Guest, of Guest Dining, and her brother, John Brownhill, who hopes to roll it out across the UK.
It has already secured support from the Calderdale NHS Trust fundraising team and Andrew Holmes from environmental health.
Once launched, local residents, businesses and fund-raisers will be asked to provide support and funding.
Ready meals – including a vegetarian option – will be served from a refrigerated van in the HRI car park at 1pm – 5pm daily but this may change subject to demand.
Guest said: "Dawn's obvious distress at a really challenging team time prompted us to think about how Guest Dining might be able to help those heroes in the NHS by delivering delicious and healthy prepared food.
"When we spoke to our local NHS fundraising team they said that local people had been amazingly supportive by providing food and meals but this had to stop due to the restrictions. Our timing appeared to work well.
"However, we want to be able to roll out this model across the NHS if it is needed so Kirklees has been used as a model for rolling this out to other NHS Trusts."
Support in Kirklees has already been secured from: Catering team – Ben Franco (The Barn Almondbury), Andrew Bradley (Bradley's Outside Catering), Duncan Cleave (Marshalls Direct),  Shirley Shires (distribution)and Jo Graham (AJ's Lindley, PAX Takeaway Halifax); Refrigerated Vans – Sailbrand; Creative support – Vovi Studio (website) and StudioSmallprint (logo); Van Signage – Zest for Print; Social Media Marketing – Brand & Code; PR – ALPR.
The project will be funded by donations, with food from local suppliers.  Meals will be prepared in individual chefs' kitchens. For more information see www.food4heroes.co.uk
:::
Elland-headquartered technology specialist Vapour Cloud has decided that colleagues from the business will be given paid leave to undertake NHS volunteering and support the fight against COVID-19.
CEO Tim Mercer announced that everyone will be granted up to half a day of paid time out per week to "do their bit".
The move follows the launch of the Government's appeal for 250,000 people to support the 1.5 million vulnerable residents unable to leave their homes for the next 12 weeks in a bid to shield themselves from the virus.
British citizens in good health have been asked to assist with shopping, deliver medicines, telephone the housebound and, where they have a career background in the NHS, return to the frontline.
More than half a million have already signed up.
Mercer said: "As the UK community continues its battle against COVID-19, it's certainly a time to 'dig deep' in whatever way businesses and individuals possibly can.
"From pressing ahead with pioneering engineering and tech research, to donating to food banks in the local community and simply applauding the efforts of frontline NHS workers, there are many ways for people to come together.
"Offering paid leave for colleagues who take time out to 'do their bit', is another little gesture – put forward by our head of cloud services and NHS volunteer Craig Holmes – to help us stick together as a nation and provide support when it's needed.
"I hope as many colleagues as possible will take advantage of this opportunity to give something back."
:::
Leeds- based brewery, Northern Monk has become the latest food and drink manufacturer do donate products to NHS workers.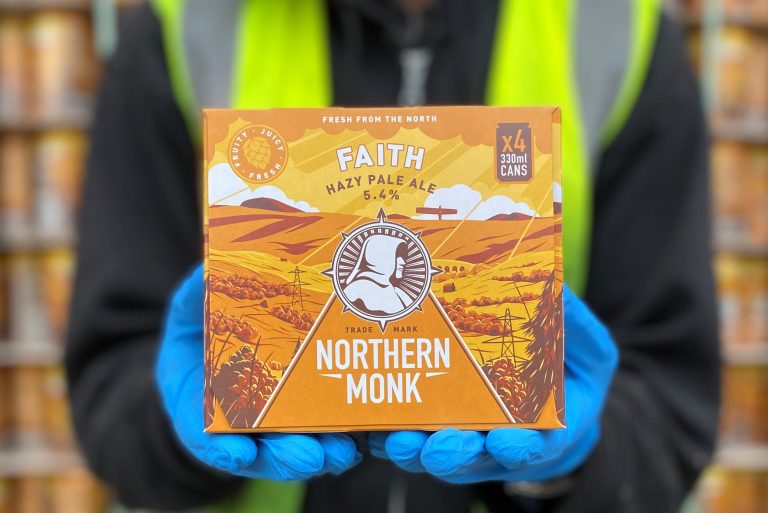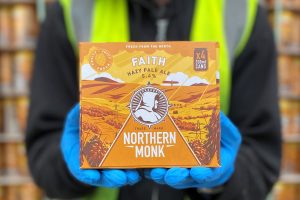 The firm is giving away 5000 330ml cans of its flagship core range beer, Faith, to NHS workers across the UK.
The complimentary beer was made available in packs of 4X330ml cans via Northern Monk's online shop on Sunday afternoon.
Due to the impact of COVID-19, Northern Monk has had to close its Leeds and Manchester-based tap rooms and has pivoted its business online. For the past week, Northern Monk has been asking its customers to 'Keep the Faith' by purchasing bulk packs of Faith via the webshop. These packs were previously listed at £28, but have been increased to £30 this weekend, the extra £2 from each pack sold will be donated to an NHS charity.
Speaking about the initiative, Founder of Northern Monk, Russell Bisset, said: "There's never been a more important time for us to come together in support of our NHS and show each individual how much we appreciate the ground-breaking work that they're doing to battle COVID-19.
"We all put our faith in NHS employees on a daily basis. This is our way of giving them a little Faith in return."