Lights. Camera. Action for £8.5m cinema complex
Partners involved in delivering a world-class cinema and leisure experience in Doncaster town centre enjoyed a preview ahead of its upcoming opening.
The £8.5million world-class Savoy cinema complex will open its doors for residents and visitors in mid-September, and partners involved in its delivery have already had a preview.
The six screen cinema and leisure complex has been developed and project managed by Doncaster Council, constructed by Lindum and supported by Sheffield City Region Local Growth Funding (LGF).
The site will be the sixth in Savoy's expanding cinema chain, and includes luxury recliner and rocker seating in all six screens. Despite the pandemic the site has also seen strong interest from both local and national operators in the five prime restaurant units which complete the leisure destination.
Ros Jones, Mayor of Doncaster, said: "The new Savoy cinema complex will be another great attraction in our blossoming Civic and Cultural Quarter.
"It will frame Sir Nigel Gresley Square and complement Cast performance venue, the civic office and the new homes that have already gone up. We also have Danum Gallery, Library and Museum and Doncaster University Technology College being built in this quarter with further plans in the pipeline for the Waterdale area.
"When you consider all the other schemes we are delivering in the town centre as part of our ambitious Urban Centre Masterplan, it's clear to see how we are driving Doncaster forward at pace and helping to transform the whole borough for residents and communities."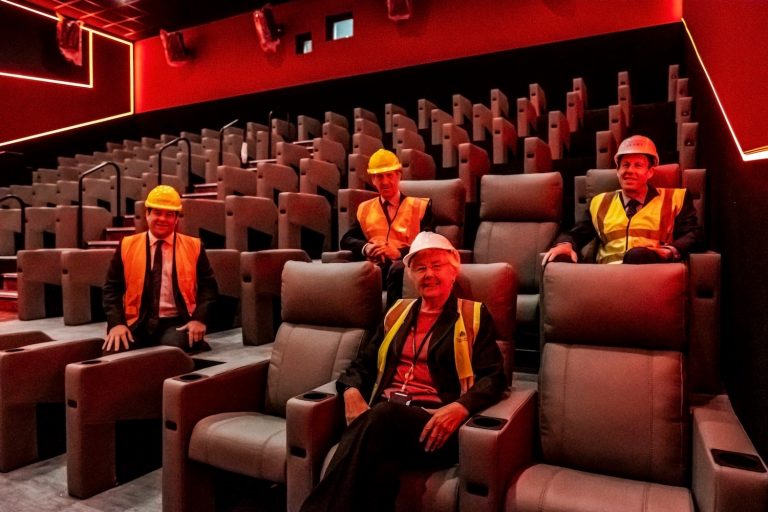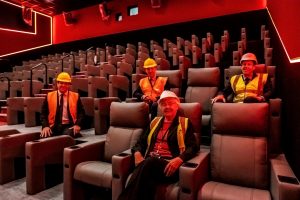 James Collington, Savoy Managing Director, said: "We are delighted to be in the final stages of development of Doncaster's new state of the art cinema. The next few weeks will be busy on site as we complete the internal construction in time for our opening this September. We are proud to be installing the latest technology throughout, including our Premium Vertex format in screen 1, comprising next-generation 4k laser projection and Dolby Atmos Immersive sound."
Lindum Exec Board director Edward Chambers said: "It was great to tour the building today and see how well the project is coming together as we head towards completion.
"This project has been a significant job for Lindum, involving many of our different construction departments. In addition to putting up the main structure, our roofing and cladding experts finished the exterior of the building, our specialist joinery team manufactured the bespoke counter inside and our plant hire team provided the tools and equipment.
"Whilst progress has been unavoidably impacted by the Covid-19 outbreak, the team have done very well progressing works safely with full compliance with all Covid guidance to get the job finished. It's been a pleasure working with Doncaster Council through the Pagabo Framework, and with repeat end-user Savoy Cinemas on what will be a fantastic facility for Doncaster."
The project has benefitted from £635,000 of the Sheffield City Region Local Growth Funding (LGF) and once complete will create more than 100 jobs and bring new business rate income into the borough.
Mayor of the Sheffield City Region Dan Jarvis said: "It's wonderful to see this important project so close to completion – a testament to the vision Doncaster's Mayor and Council have been driving forward. It is a great example too of how our Local Growth Fund can make a difference: creating jobs, boosting the vitality of our town centres, widening access to culture, and improving our quality of life. As we work to renew our economy and build a stronger, greener, and fairer South Yorkshire in the aftermath of COVID, this sort of funding is more important than ever."