Evolution not revolution for world leading manufacturer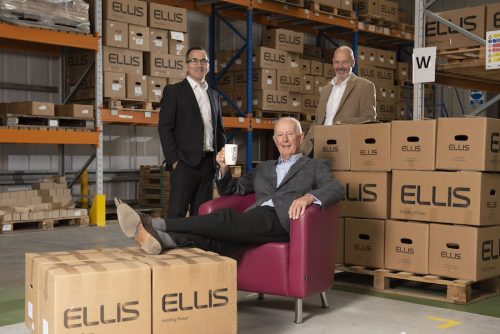 One of the world's leading cable cleat manufacturers is making changes at the top as it prepares for the next phase of its nearly 50-year history.
Ellis Patents, which was founded in 1962 by former RAF bomber pilot Arthur Ellis, has made a series of senior changes to its board following the retirement of founding chairman Chris Calvert.
Calvert has spent 43 years with the business first as managing director from 1977-2001 and most recently as chairman. He along with a group of shareholders consisting of family, business and cricket-playing friends, bought firm in 1987 when its founder retired.
Over the intervening years, what started as a small local manufacturer has metamorphosed, into a business which now exports to over 50 countries and is a leader within its field as a result of its approach to innovation.
Calvert will be replaced as chairman by the current managing director, Richard Shaw who after almost two decades at the helm is stepping back from day-to-day involvement.
Shaw will in turn be replaced by Danny Macfarlane. Macfarlane, joined the business in 2003 and has held various roles within the company, most recently operations director.
TheBusinessDesk.com sat down with the three gentlemen ahead of the announcement to talk about what this means for the future as well as their hopes and aspirations.
"We have a good base already and a clear strategy so we're going to continue the good work that Chris and Richard have done, it's a case of evolution not revolution", explained Macfarlane.
Shaw added: "It's a very conscious decision to restructure the way that we are. Business changes, people get older and you have to move and progress, and this is the best way for us.
"Doing it this way keeps the business ethic the way it is, and we have something really special here and it's just nice to preserve it."
Calvert added: "I'm very happy there's been a smooth transition and that as the business has developed the with it, bringing us to where we are now."
However, despite the fact these senior changes are internal and seek to keep the "special" culture that the business has, all three men admit that the challenge presented this year by Covid-19 has been something unprecedented.
The business which hasn't ceased work throughout lockdown, despite sales declining – with export sales dropping the most, Calvert said "parts of the business have s really benefitted from working from home".
Shaw highlighted that in particular its technical department has seen product development increase through the coronavirus crisis as they've "been able to work in an undisturbed environment without someone at their desk every five minutes". Equally he said from a sales team perspective, other than being unable to travel work has continued, because the relationships are already established.
The outgoing MD adds that coming out of the crisis the business will be "a little bit leaner but quite a lot stronger" and highlights that morale in the business is fantastic.
Looking at the sales, the leaders say that with their financial year starting in March – as the pandemic started to take hold – its orders are at 87% of budget, with Shaw adding: "that's not a bad place to be compared to some of the results [announced by businesses] lately".
In fact it was just ahead of the Covid-19 hitting that the business completed the construction of its new building, adding 14,000 sq ft to its site. Macfarlane highlighted that the disruption caused by the virus provided a good opportunity to look at how the business does things and at workflow. He added: "Part of the expansion was to allow us more space for example in metal work, so we can do the full package for clients and better control the cost, quality and lead time, which if you're relying on a supplier can sometimes be an issue."
He adds that although with the expansion they will look to automate some areas, they don't plan to lose jobs. Stating: "The intention is to redeploy and invest in people, providing them with training enabling them overtime to do more skilled areas of work rather than doing the repetitive jobs."
Shaw cites his experience with the business as an example of their approach to automation and evolution of manufacturing: "When I stated we had a turnover of £2m and employed 38 people. Now we are at three and a half to four times that level of turnover today and we've got 55 people. So, we've created jobs at the same times as automating in order to increase our output."
So as the business approaches its half-centenary, what does the future hold? Well new export markets is a certainty, Shaw states that during his time with the business it's grown from five local distributors to just under 50; but also a bigger focus than ever on new market sectors such as rail, which Calvert highlighted was a relatively new one for them.
Aside from that like all exporting businesses they are seeking to prepare for the great unknown of Brexit – "We're as ready as we can be" they say, although like many they say they'd like to know is it a deal or no deal situation.
They will also be continuing to seek to support the green agenda, both from a market sector which following Boris Johnson's announcement last week regarding wind, creates potential new opportunities for them, but also in making the business as green as they can.
The later point leads Shaw to highlight that the new building features solar panels which enables the business to generate 50% of its power from the sun. But also, that as a business it has long been focused on its environmental impact, fitting its offices with high specification windows, air measurement systems and upgrading its buildings as much as possible. He cites that the ROI on this investment isn't always tangible in the bank book but the impact it has on morale by improving work conditions is tremendous.
So as the interview draws to a close what advice would Calvert and Shaw leave with Macfarlane and with any business leaders? "It's about keeping your eyes open and seeing what's going on in the world and trying to do the right thing all the time – that's at least what our company culture has always been about."
It's clear that this North Yorkshire business is a success story and under the stewardship of Shaw and Macfarlane will continue on into the future with the same commitment to its people and culture that has seen it grow from one machine shop into an international leader.