Bakery recognised for investment and innovation at food awards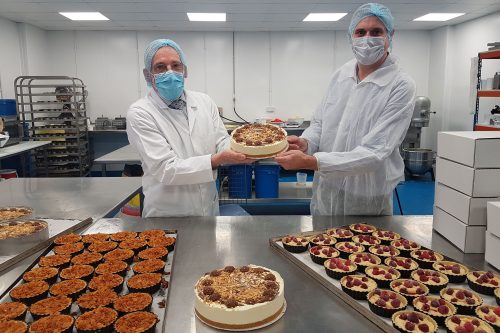 Shipley-based bakery, Just Desserts was named Producer of the Year in the Garbutt & Elliott's Food & Drink Business Awards 2020.
The family run bakery's thriving business, which was established with an Enterprise Allowance by enterprising husband and wife duo James and Carol O'Dwyer more than 35 years ago in Bradford's Salts Mill, today employs more than 30 staff and is going from strength to strength, despite a challenging climate due to Covid-19.
York and Leeds-based accountancy firm, Garbutt & Elliott, launched the Food & Drink Business Awards three years ago to recognise and celebrate the county's best food and drink producers and retailers, after advising enterprising businesses from micro breweries to high street retailers and seeing how forward thinking and innovative the sector is.
The Food and Drink Producer of the Year class sought Yorkshire businesses doing something exceptional with Just Desserts recognised for its 130-strong premium range of handcrafted desserts and pattiserie, offering innovative and stand-out products direct to the foodservice industry, as well as its continued investment in its bakery and staff to expand the business.
The bakery continues to pioneer products to meet market and consumer demand from individual cheesecakes and a popular vegan range to collaborations with high profile brands such Lotus Biscoff, the famous little red Belgian biscuit, used in its Cheesecake and Gateau range.
The award also acknowledges the business's continued investment in growth, including its £160,000 development programme to increase the footprint of the bakery as part of its 5 year strategic expansion plan and investment in staff.
Commenting on the award win, James O'Dwyer, managing director, Just Desserts said: "We are absolutely delighted to be named Garbutt & Elliott's Producer of the Year at a time when we all need some positive news. It's testament to the continued hard work, passion, innovation and dedication of our bakery team in such a challenging climate."
Matthew Grant, partner at Garbutt & Elliott said: "It was great to get the opportunity to visit such an established and resilient Yorkshire business. James and Carol have created an incredible business and the award is well deserved."