Leeds-based charity calls for sector to build back fairer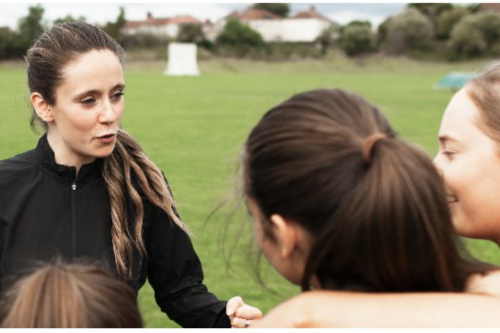 The lead charity for coaching in the UK is calling for more women to enter the coaching workforce as it states, "female coaches will be fundamental as the nation rebuilds after the pandemic".
UK Coaching, which is based in Leeds exists to support and develop the nation's three million coaches. On International Women's Day 2021, has outlined its ambition for gender equity within the sector, something it says could take five years to materialise. Stating that as the country looks to rebuild, it will need more female coaches than ever before to inspire and support more women and girls to get active.
The gender balance in the coaching sector stood at 46% in 2017 however pre-pandemic, female coaches made up 43% of the workforce. Now as play returns following lockdown it's expected this figure will fall further with only half of coaches expected to return to paid positions.
The charity which itself has a strong female leadership team – with gender parity at board level, +60% at SMT level and women making up 58% of the organisation's workforce, says that although schemes have been launched to increase the number of female high-performance coaches, more still needs to be done. It highlighted both the importance of female role models and the role it sees female coaches playing in the social and economic recovery from Covid-19.
UK Sport recently launched its leadership programme in a bid to double the representation of female coaches in the Olympic and Paralympic high-performance community by Paris 2024, while UK Coaching also recently introduced its own female leadership programme, working with national governing bodies to develop female coaches and elevate the positions of women in coaching across all sports.
Emma Atkins, director of coaching at UK Coaching said: "We want to see more women come into coaching, be supported to stay in coaching and if it is their goal, progress to coaching in talent and high-performance sport. Gender equality in sport has made considerable strides in recent years but we must move towards a balanced coaching workforce – and that means showing women that coaching is for them. It is an incredibly rewarding experience. Coaching needs more female coaches and we are calling on sports organisations to work with us in our mission to achieve an equitable 50/50 split in the next five years."
Atkins added that UK Coaching research shows that when starting to get active, women and girls are more comfortable if their coach is the same gender. And highlighted the success that has been seen in some areas.
"It has been great to see a handful of female coaches breaking the glass ceiling and coaching at high-performance level across the world. We need to do more to ensure that this becomes common practice. For too long female coaches have been overlooked in high level sport."
Mel Marshall, lead swimming coach at the National Centre Loughborough and long-time coach of Olympic champion Adam Peaty MBE, added:
"For me it's so important that female coaches have three things – role models, the confidence to know they can do the job and that they are given the right opportunities. I think women and girls have some fantastic coaching traits – we listen well, are diligent and we care – so it can only be a good thing to have more female coaches within sport and physical activity.
"The last year has had a huge impact on the nation's activity levels so let's get more women at the forefront and give them the platform to inspire the next generation of female coaches."