Rebuilding the regions: How businesses can help build back better
With 2020 being a year of survival for many businesses, companies are finally being able to begin looking to the future.
As the country prepares to "build back better", TheBusinessDesk.com with the Northern Powerhouse Investment Fund hosted a webinar focused on how businesses are gearing for growth.
The session saw Adam Ward, CEO and founder of NPIF investee company Airtime Rewards and Carl Criscione, managing director of Equinox Group, share the story of their transformational 12 months and how they've laid foundations for the future.
The session, chaired by TheBusinessDesk.com's Yorkshire editor, Ben Ormsby, also discussed support available to businesses, including finance options.
Other panellists included Laura Blakey, investment director at Greater Manchester Investment Fund; Ken Cooper, managing director of Venture Solutions, British Business Bank; and Sarah Hex, business development manager at Mercia, one of the NPIF fund managers.
Participants were asked what kind of changes they have seen as a result of COVID-19.
Cooper responded: "There's a much better understanding of the need for good science, and a much greater willingness, I think, from funders to fund science. I think that's a hopeful outcome from the pandemic."
Criscione highlighted how the shift in working practices has blurred the line between where companies are based and where the work gets done.
He said a new regime is in place with so many people working from home, though possibly blending that with the odd day in the office.
"It's changed so much in terms of how offices work and how people communicate," he said. "And I think that's a good thing for the North and our region. You can live here but might not be technically based here in a work sense."
He said for his own business, it is more important than ever to understand what clients need, as the economic landscape has altered so dramatically.
"The reset button has been pressed, and people will want to do things differently," he said. "It's a completely new market out there, and what it's going to look like is anyone's guess."
Ward said since the pandemic began, his business has witnessed changes in how marketing companies and retailers approach marketing.
"We've seen a huge demand from retailers wanting to work with us now on more performance-based marketing, with budgets being allocated a bit differently," he said.
"This year, we've got to concentrate on more features to help our retail partners target more consumers and understand behaviour."
Panellists were asked what the Government's "Build Back Better" agenda means for the North, with Blakey outlining how she viewed the shape of the revival.
She said it will partly be about driving growth in "frontier sectors".
"Think about health innovation, digital and advanced manufacturing," she said. "And providing support for those types of businesses which will bounce back quickly.
"But the most challenging aspect will be providing support to people and businesses that will have to transition and adapt.
"There's a real push to get people to change their skills to what will be needed in the 'new normal', and supporting those businesses that'll need to transition. Retail in particular."
Ward agreed there will be a major emphasis on re-skilling, with so many people thrown out of their jobs by the lockdowns.
He said: "We've seen a lot of people wanting to get into tech. And there's an opportunity for us to be able to support those people with a change in their career paths, from maybe working within hospitality or events or other sectors that have been hit hard.
"We see a huge opportunity as a business to help these people."
The panel was asked what provision exists to help companies get back on track after the disruption of 2020 and early 2021.
Hex said that as well as the Northern Powerhouse Investment Fund, firms should consider the assistance offered by the LEPs and Growth Hubs.
And she gave practical advice for businesses wanting to attract private equity backing
She said: "There's so much free support available to any business starting out looking for investment.
"Leeds for example does the Investment Readiness programme and there are other similar programmes which can take you through the process of putting a pitch together, looking at your product and getting it through to the point where it's ready to go.
"It's important to begin talking to your advisors early, because it can take months before an investment is completed. It doesn't happen overnight.
"If you're asking, 'what does an investor look for?', to put it bluntly they're looking for future value.
"Especially if it's venture capital, your product must be something that's going to change life or change a product. Something innovative."
Commenting on the Northern Powerhouse Investment Fund, Cooper said: "It's now a half billion pound fund, last year it was £400m. It's an indicator of the impact the levelling up agenda has had, that we were able to secure more funding.
"The bounce back loan scheme has supported lots of businesses. And it's helping people understand that actually getting some external capital into your business can be a very good thing."
The panel also addressed how to tackle the brain drain to the South, with members saying the advantages of living in the North must be promoted more effectively.
Blakey said: "We have some really great businesses based in the North and it's cheaper to live up here.
"But I don't think we do enough to tell people about the opportunities here. There's got to be a real emphasis on creating places in the North where people want to live.
"Places which blend innovation and entrepreneurial zones, with a proper residential offering that people want."
Criscione said the pandemic could change young people's desire to head South after university, with the upheaval forcing people to reassess their work-life balance.
He added: "There's some great events courses at Leeds Beckett and a wealth of talent. Normally this talent ends up going down to London and searching for employment there. But I do think post-pandemic that might change."
The £500m Northern Powerhouse Investment Fund was established in 2017 with the ambition to transform the funding landscape across the North of England and help to create economic prosperity on par with London and the South East.
To date, NPIF has directly invested more than £233m, in deals that have attracted an additional £279m of investment from the private sector.
This is helping business owners that had previously been under-served by traditional lenders to expand, enter new markets and create thousands of new jobs.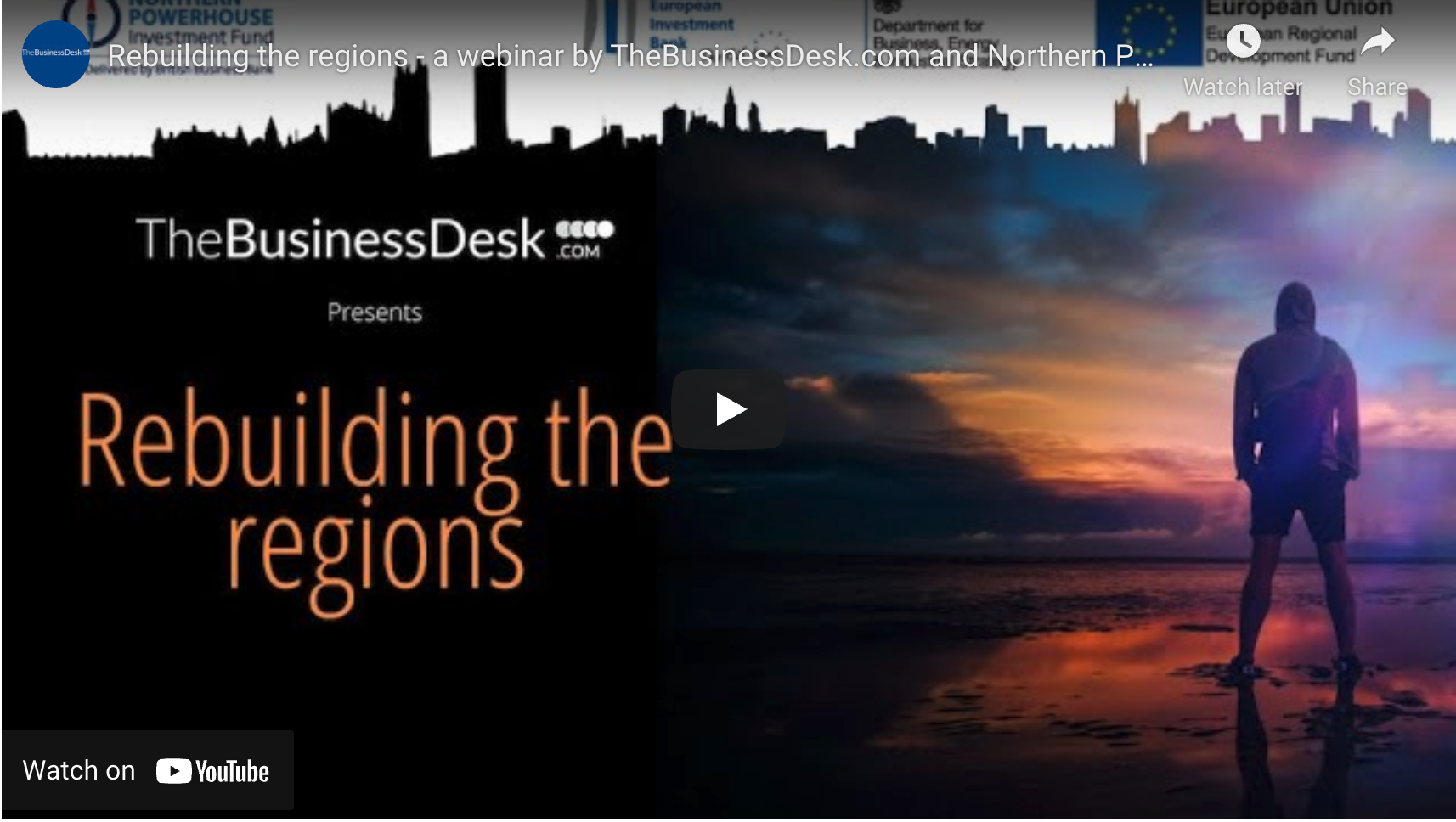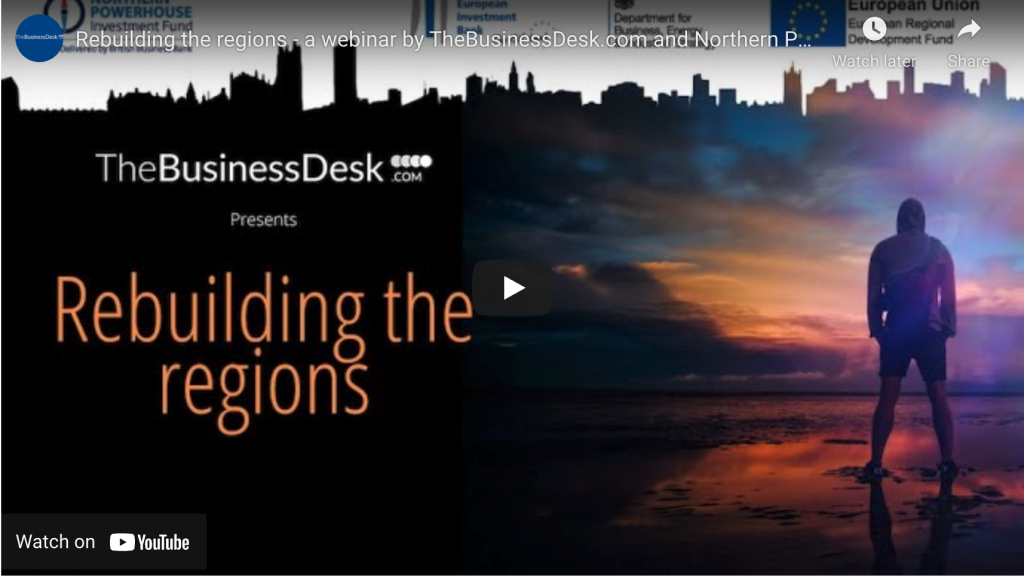 The final webinar in the series is scheduled to take place on 17 March at 10am. Entitled, Making Moves: Scaling your business for growth, the free to attend event will provide insights into how collaboration can help you scale quickly and effectively and have business leaders share the lessons they've learnt leading growth.
To attend this webinar simply click here to register.
The Northern Powerhouse Investment Fund is also one of the sponsors of the upcoming, not to be missed, virtual conference Invest North which is bringing together business and policy leaders to set the agenda for the North's economic future. Taking place on 24 March, be sure to purchase your ticket to be part of this landmark event.