People: Rollits; Sandersons; Iridium; and more
Two University of Hull graduates whose legal learning included work experience spells with Rollits LLP have now joined the firm as trainee solicitors.
Rollits, which has offices in Hull and York, has welcomed Zaneta Andraszczyk to its private capital department, with Jordan Collinson beginning his career in the firm's property department.
Both new recruits are from Hull. Andraszczyk attended St Mary's College and studied at the University of Hull from 2015 until 2018 for her LLB, which she followed with a Legal Practice course with a Masters at the University of Law in Leeds.
Collinson attended Archbishop Sentamu Academy and Wyke Sixth Form College. He gained his LLB in Law and European Legal Studies with First Class Honours at the University of Hull in 2019 after a four-year course which included a year at Bayreuth Universität in Germany.
He also attended the University of Law in Leeds and gained a distinction in the Legal Practice Course with the integrated LLM in Professional Practice.
Ralph Gilbert, managing partner at Rollits, said: "As we celebrate our 180th year in business this year it is particularly pleasing to welcome two trainee solicitors who have grown up and went to school in the city and, in common with many of their colleagues, come through the University of Hull.
"Their arrival also underlines the importance of our in-house work experience programme, which played a big part in helping us get to know each other.
"After last year when we were only able to offer work experience in a virtual format, we hope to bring prospective lawyers into our offices again this year and we look forward to giving more young people essential insight into a career in law."
:::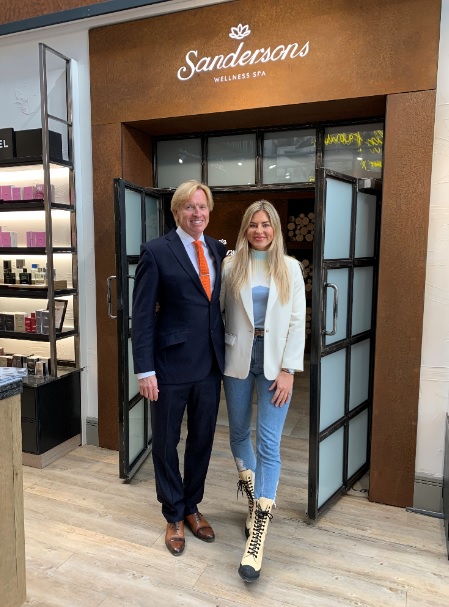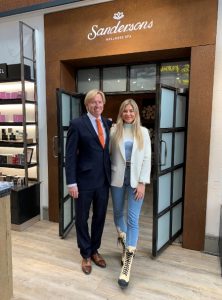 Independent department store brand, Sandersons, has expanded its team as well as preparing to open in a third location when the restrictions on non-essential retail lift next month.
Rebecca Dransfield, the 25-year-old daughter of Sandersons founder Deborah Holmes and Dransfield Properties managing director Mark Dransfield has joined the team as a buyer.
A graduate of the Fashion Retail Academy, she has worked in both online and physical retail – most recently working at Selfridges in London for the luxury brand Gucci.
Throughout last year's lockdown she helped to drive online and home delivery sales at Sandersons, with a series of socially distanced photo shoots which caught the imagination of the store's loyal customers.
She joins the Sandersons team as the company is preparing to open its third store at Five Valleys in Stroud next month.
The company also has a store at Sanderson Arcade in Morpeth as well as the flagship store and head office at Fox Valley in north Sheffield.
Sandersons was founded in 2016 by Deborah Holmes, who died in 2019. Her husband Mark has taken on the role of CEO as well as overseeing the company's expansion plans which has seen online sales increase and the creation of two new stores.
Rebecca Dransfield said: "I have always had a real interest in the store and how it is changing and developing but I wanted to gain experience in other retail environments before getting involved full time.
"It feels like the right time now to be here and to be playing my part in keeping Mum's legacy and vision alive.
"It is a really exciting and positive time for the company, we are preparing to re-open after the lockdown and opening a brand-new store in Stroud."
Mark Dransfield added: "Sandersons is a family business, and I am delighted to have Rebecca as a part of the head office team, she has her mum's eye for style and will bring some fresh ideas and energy.
"I'm extremely proud of what the whole Sandersons team has achieved over what has been a difficult year for retail and we are all looking forward to re-opening the doors to our shoppers in April."
The company is part of the Dransfield portfolio and houses brands including Barbour, Holland Cooper, Max Mara, Tommy Hilfiger, Levis and Jacob Cohen Jeans.
:::
Leeds-based IT transformation consultancy, Iridium, has welcomed two new additions to its growing team, which has grown by 50% in the last six months in-line with significant client wins.
The business has recently celebrated three years in business providing a range of services to a client base of fintech, utility and legal firms, including cyber security, IT transformation, card migrations and technical delivery.
It is now set to introduce a suite of additional services – along with permanent new recruits to facilitate its continued expansion.
Nicole Mikulla, who previously held the role of enterprise client manager at Spring Technology and Engineering, which is part of The Adecco Group, has joined to take on the position of client solutions manager.
She will draw on 18 years of specialist recruitment in IT and engineering to work with existing and new clients to enhance and expand Iridium's capabilities within its business, whilst assisting in the development and embedding of the firm's new product offerings.
She said "I have been aware of the business over the last couple of years, and this is a great opportunity.
"The company is already known for its agile and flexible approach, and I'm excited to combine my skills and experience with their services and reputation to further develop the adaptable solutions which will help our clients overcome the challenges of COVID, Brexit, IR35 and a rapidly evolving market."
Joining Mikulla on the new-starter roll call is business operations consultant, Amanda Juniper.
Juniper arrived at the firm in late January to further bolster its busy operations team and support its growing network of clients and consultants.
She has over 15 years of experience in business support and operations.
Ben Dainton, company founder and co-director, said: "In this digital age, businesses have come to realise that it's not feasible, or necessary, to have specialist IT permanently in-house, and that by working with us, they can tap into some of the country's leading IT talent when needed for specific migration, security or transformation projects when needed, or to plug a skills gap.
"Our internal team has been carefully curated to deliver intelligent, intuitive and efficient solutions to our clients with every single engagement, and we're delighted to welcome Nicole and Amanda, with their impressive experience and skills."
:::
Leeds-based digital marketing agency, Blue Digital, is continuing to grow its digital offering with three new executive hires across web development, sales and digital PR.
The agency has seen demand rise for its SEO and web development provisions. It has allowed it to expand the workforce by over 25% in the past six months.
The company has also recently added in-house digital PR and content marketing as new service offerings due to high demand.
Leah Wood has been appointed digital PR & content executive. She brings six years' experience in PR and marketing to the role, having previously worked in-house for a printing company and at press release distribution company, RealWire.
She will produce content for many of the agency's clients and also help to implement the digital PR offering.
The business has also welcomed Matt Dove into the role of website developer. He previously worked at Bradford-based marketing agency Peardrop Creative.
His main focus will be on maintaining and updating client websites, creating websites for new clients and automating and improving web development processes.
Sebastian Heap has recently joined as a marketing & sales executive. He has many years' experience of working within a sales environment, including within the manufacturing industry.
His main focus will be on bringing in new clients and working with existing clients to offer marketing investment and guidance information.
He will also help clients to use SEO, PPC and email marketing to drive their sales leads.
The scale-up has led to commercial director, Mark Ambler, taking on a full-time role within the business.
He will focus on growing and developing the company as a whole, bringing in new clients and developing relationships with existing customers.
He said: "It's been a difficult time for many businesses, but with so many people sat at home online, the demand for digital marketing and PR services has never been higher.
"We're thrilled to have seen an upsurge in business at Blue Digital that has allowed us to expand, despite the pandemic."
Managing director Roy Moody added: "Ultimately we are here to help our customers grow. By having a strong digital presence, the more successful our customers become, and in turn, the more successful Blue Digital becomes.
"Despite the lockdowns we've faced, we're really pleased we've been able to expand Blue Digital and look forward to growing the business even further in the near future."