European manufacturer relocates to £3m purpose built site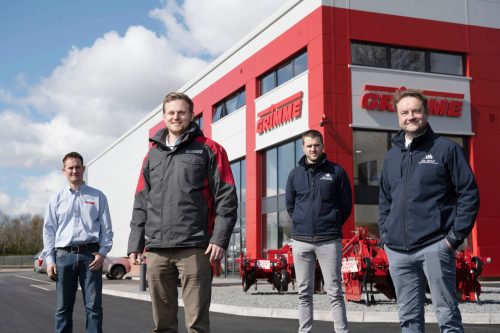 A leading European manufacturer and supplier of agricultural machinery, which operates throughout the UK, has relocated to a £3m purpose-built premises in east Yorkshire.
German company, Grimme, which has a £45m UK turnover, has moved from Dunnington, York, into a larger 17,700 sq ft base in Market Weighton, comprising underfloor heating, a workshop with a gantry crane, stores, and three floors of offices together with a service yard and outbuildings for storage and servicing.
The move was supported by property and construction consultants, LHL Group, who managed the entire development process including the demolition of existing on-site farm buildings, design, planning and the building contract awarded to Lindum Group.
Grimme, which has 95 UK staff mainly supplies arable and mixed farmers with machines for harvesting crops such as potatoes, sugar beet, onions, red beet, carrots, leeks, cabbage, chives and fennel. Its new site will support the firm's customers throughout Yorkshire and Humber with the move coming as it looks to capitalise on demand from crop growers to modernise their equipment as a result of Brexit which has ersulted in a lower number of casual workers available for harvesting labour-intensive crops.
Grimme UK managing director, Patrick Graf Grote, commented: "The new premises will enable us to stock far more parts with better organization; create greater efficiency by having more space to move equipment and be able to carry out repairs in a specially-designed workshop, rather than outside in the yard, while the overhead crane accelerates lifting tasks, and a new customer area allows us to provide a better visitor experience.
LHL Group associate director based in Hull, Daniel Bower, added: "We visited Grimme's sites in Ireland and Germany as part of the design development to understand their workflow and requirements. The design was developed by our senior architectural technologist, Shane York, in conjunction with Grimme's in-house architect to align with brand standards internationally.
"The project was delivered on time by principal contractor, Lindum Group, starting and completing on site during the pandemic with no disruptions to the programme.
"Grimme's precise knowledge of their requirements for the new premises motivated us all. LHL provided a multi-disciplinary team at various stages of the project using our experience in delivering similar buildings to tight budgets and time schedules. It has been a pleasure to support them."