Plans for former council offices deferred due to concerns about appearance
Councillors have deferred proposals for 476 student flats within a pair of listed buildings and a new property in central Leeds.
They considered the application to redevelop and extend both the Leonardo Building and Thoresby House – which previously housed council offices – and to construct a new 11-storey building constructed on the neighbouring car park.
The student accommodation would be arranged in a mixture of studio and cluster flats. There would also be communal areas, including student hub facilities and outdoor amenity space.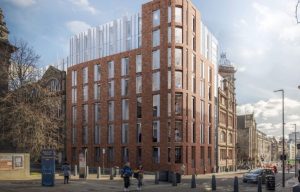 McLaren Properties has submitted full planning and listed building applications.
But members of Leeds City Council's City Plans Panel voiced concern about some elements of the scheme earlier today – 10 June.
Councillor Elizabeth Nash said the extension on top of the planned new building looked like an "add-on".
She was backed by Cllrs Kayleigh Brooks and David Blackburn, with Cllr Graham Latty adding: "We have two very attractive buildings here but the car park in-fill dwarfs them and makes them look utterly insignificant.
"Only by reducing the new building would you get anywhere near making this acceptable."
Cllr Dan Cohen said both Historic England and Leeds Civic Trust had previously raised important points about the scheme, noting: "I'm concerned about the lack of active frontage. It's problematic, especially as it fronts onto Millennium Square which is such a major part of the city.
"Also, the replacement extensions on the roof are bulky and do not contribute positively to the roofscape. As it is I can't support this."
Cllr Neil Walshaw said while the overall principle of the application was good, parts of it do need more thought and attention.
Following a recommendation by Cllr Cohen, panel members unanimously agreed the application should be deferred so the issues they had raised can be addressed.