Yorkshire Bank HQ redevelopment plans trigger over supply warning
X

Register for free to receive latest news stories direct to your inbox
Register
Councillors have queried parts of a major scheme to radically transform the Yorkshire Bank HQ site, in Leeds.
Members of Leeds City Council's City Plans Panel said images of one of the student accommodation towers proposed for the site looked impressive, but they raised concern that this is not the right location for the building.
They were responding to a pre-application presentation by developer Downing, which wants to use the site at Merrion Way and Clay Pit Lane to construct a 38-storey building containing student 728 bedrooms, a seven, 12 and 18 storey block containing 543 student bedrooms and a separate multi-purpose events space.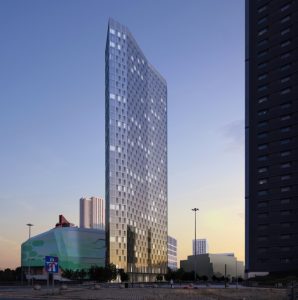 Councillor Graham Latty said the striking looking design of the 38-storey tower was very attractive, but argued that it was in the wrong place and would detract from the appearance of the nearby First Direct Arena.
Cllrs Elizabeth Nash and David Blackburn agreed with him, with Cllr Nash adding: "The other [543-bed] student building is very blocky looking. Surely we can do better than that? I can't vote for this as it is."
Cllr Neil Walshaw was also underwhelmed with the proposed 543-bed property, describing the design as "generic".
Cllr Dan Cohen pointed out that any new properties over seven stories in this area were always going to block the existing view of the Arena.
Commenting on the taller student accommodation tower, he said: "I think it's a stunning building. From one angle it reminds me of the Flatiron Building in New York and I think it could be a real landmark.
"I do understand my colleagues' concerns about the removal of some of the view of the Arena, but anything that's built there will block the view."
He also voiced reservations over the prospect of yet another student accommodation scheme.
"I think the students of this city are awesome and their contribution is fundamental and integral to our economy – but we're not just a student city," he said.
"I'm worried that we're building up a real problem for the future because demand for universities ebbs and flows.
"At the moment Leeds is the city of choice for students but in 10 to 15 years time that could change and we'll have all these tall buildings and no one in them."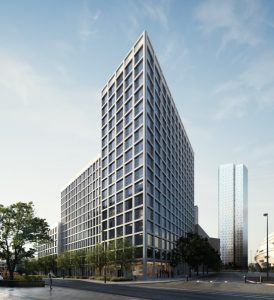 If the plans progress the development will be the latest purpose built student accommodation in the area.
Downing has previously stated that drawing in graduate talent is "vital" to the health of the regional economy and this relies on being able to offer attractive student accommodation.
It has also said its planned project at the Yorkshire Bank site will support hundreds of construction jobs, as well as provide new opportunities for the local supply-chain.
The company has launched a public consultation on the plans which will run until 10 September. The public are being invited to view the plans and submit their feedback by visiting https://downingconsultation.com/