Region's leaders anxiously wait for green light from Treasury for key transport schemes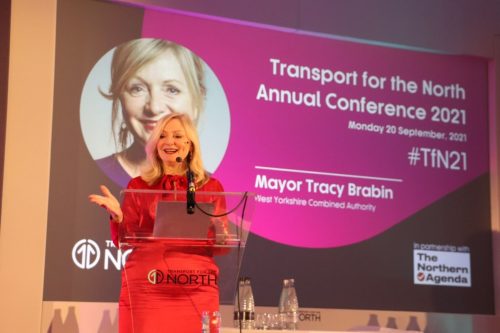 Political and business leaders are hoping for a green signal from the Chancellor next month as concerns mount that key transport projects will be shunted into the sidings.
Rishi Sunak will unveil his Comprehensive Spending Review and Budget in October with Westminster chatter talking up tensions between Boris Johnson's levelling-up ambitions and Sunak's cost controls.
West Yorkshire mayor Tracy Brabin, speaking at Transport for the North's annual conference in Leeds, said: "Nobody knows what's going to happen beyond October 27th, so everything is pending on that."
She used the example of an initial £200m bid to support the mass transit project as part of a broader call to Government to "help us help you".
She said: "That is a commitment that's going to go over this Government and the next government, whatever colour it is, and the one after that.
"We have to have that commitment from Government to genuinely invest in the North. It can't be those pockets of funding – the short-termism limits our ambitions."
HS2, Northern Powerhouse Rail, a new station in Bradford, and the mass transit scheme in West Yorkshire head the list of major projects that are waiting on the Goverment's delayed Integrated Rail Plan and funding decisions.
Tim Wood, Northern Powerhouse Rail Director at Transport for the North, said: "Where are we on the railways? Quite frankly, we're still in the back lane. 18 months ago, Doug Oakervee clearly said, let's accelerate HS2 and Northern Powerhouse Rail. And, of course, we're still waiting."
There are also the longer-term thematic ambitions around decarbonisation and levelling-up which transport infrastructure can help accelerate that are dependent on the decisions being made in Treasury over the coming weeks.
Rail minister Chris Heaton-Harris, speaking in a pre-recorded interview at the TfN conference, said: "I know there's a huge amount of infrastructure that's required.
"That's reflected in the bid I put forward in the spending review that is currently underway, and hopefully will be reflected in the amounts of money we get back in the budget at the end of October."
But there was a warning that the North is already feeling the impact of the indecision around HS2's second phases, North of Birmingham.
Lorna Pimlott, Phase 2 sponsorship director at HS2, said: "One of the key benefits of HS2 is regeneration and investment. What this level of uncertainty is currently doing is is actually hindering that.
"Birmingham has that certainty, we see £20bn of investment forecast now because of the improved connectivity for the region. We can't secure that on the eastern leg – in fact today we can't secure that fully on the western leg, because we haven't actually deposited the bill yet."