Initial designs drawn up for proposed railway station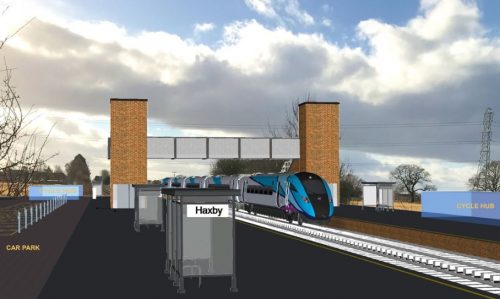 Early stage designs have been revealed for a proposed new railway station in Haxby, near York.
Residents and businesses are now being asked to share their thoughts on the designs in a consultation which runs until 15 May 2022.
Bringing a railway station back to Haxby has been a long-held ambition locally, with the previous station having been closed 92 years ago.
In recent years significant progress has been made as part of this project, including the identification of a preferred location for the station – Towthorpe Road.
Ahead of York City Council submitting its funding bid to Government later this year, residents and businesses are being invited to share their thoughts on the early design work being undertaken.
These designs also give a broad outline of the proposed plans for the site, including platforms, cycle storage, car parks, cycle and foot paths and waiting shelters.
Councillor Keith Aspden, leader of City of York Council, said: "This is the latest step in our ambitious plans to improve connectivity and support sustainable transport by bringing back a rail station to Haxby.
"We have been grateful for the initial feedback on the project from the local community, which clearly showed significant support for bringing this project to life.
"Now that a preferred location has been identified and design work is progressing at pace, we want to hear from residents to put together a strong bid and ensure the station works for the local community and the wider city."
Cllr Andy D'Agorne, deputy leader and executive member for transport, said: "Haxby station would bring many benefits not only locally but for the whole city, including better sustainable transport links, reduction of traffic levels and increased connectivity with the North of the city as well as areas across the region.
"As we prepare to submit a funding bid for this ambitious project, we want to hear from residents about the initial plans, design and use of the new station, so we can ensure the plans deliver the city-wide benefits and have the full backing of the local community."
Visit www.york.gov.uk/HaxbyStation for more details on the project.