Multi-use community stadium completed at Olympic Legacy Park
Property regeneration expert, Scarborough Group International (SGI) has confirmed Practical Completion of its new Community Stadium at Sheffield Olympic Legacy Park, 16 months after breaking ground.
The delivery team, led by principal contractor, GMI Construction Group, has overcome complex challenges during construction, including the disruption caused by Brexit, the pandemic and severe weather conditions.
Designed by architects, Whittam Cox and funded by OakNorth Bank, the Community Stadium has the capacity to hold 758 seated supporters under a covered grandstand, and a further 562 standing around the pitch perimeter, giving a total of 1,320.
Capacity should rise to about 4,000 as future development phases are undertaken.
Beyond sport, the stadium has been designed to support SMEs involved in the life sciences sector, offering flexible and collaborative business space.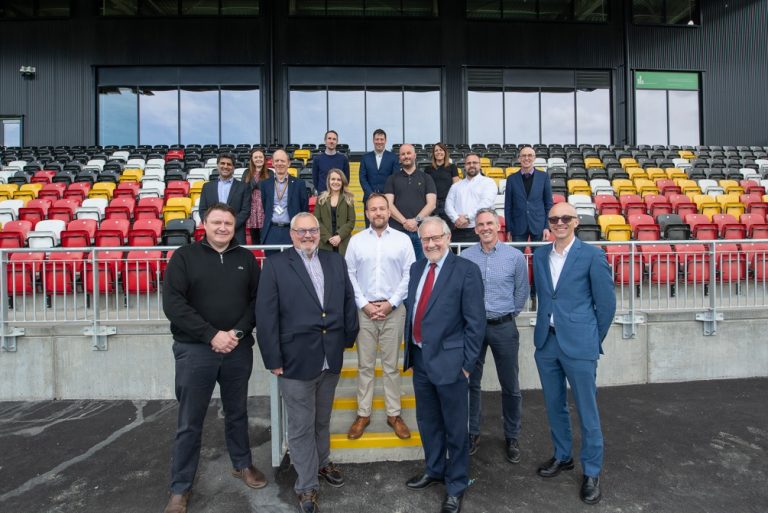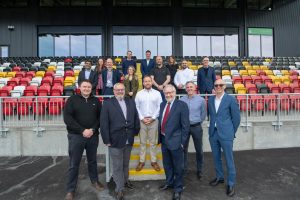 In the months ahead, SGI plans to introduce three state-of-the-art Padel Tennis Courts in close proximity to the stadium, further expanding the active sporting opportunities available.
As well as serving as the home of Betfred Championship rugby league team, Sheffield Eagles, the Community Stadium is open to use from other professional and grassroots sports teams, alongside the wider community.
Stephen Marriott, operations director at SGI, said: "The Community Stadium has some of the best facilities in Sheffield and will create a lasting legacy for the local community.
"I'd like to take this opportunity to thank the whole delivery team for their hard work and dedication in bringing the Community Stadium to life; despite encountering numerous complex challenges during construction."
Kate Martin, executive director of City Futures at Sheffield City Council, said: "Sheffield is a city that has always championed our fantastic sports teams, events and legacy so it's no surprise we are the only city outside of London to have an Olympic Legacy Park.
"It's fantastic to see the site continue to grow, with the new Community Stadium providing a permanent home for Sheffield Eagles, as well as creating a dedicated space for people to train and play sports together, from professionals to schoolchildren."
Richard Caborn, chair of Legacy Park Ltd, added: "This is an excellent example of Olympic legacy in action as we deliver a tangible legacy from the London 2012 Games through the four themes of Sport, Community, Environment and Economy.
"The stadium is a wonderful addition to the first class facilities at the Park and I look forward to seeing it come to life over the next few months bringing new businesses, accelerator programmes and education providers to the site."
The Community Stadium is the first SGI building to be completed at Sheffield Olympic Legacy Park, forming part of the first development phase which has attracted £100m of investment in the Park.
SGI has signed an agreement with Sheffield City Council to build on the significant progress made to date at the Park by developing a masterplan to deliver up to one million sq ft of commercial space.