Drive innovation by connecting your business
Can you see a way for your business to be more productive, retain customers for longer and increase your sales revenue but you need some support to bring those ideas to life?
Connecting Innovation can help. The scheme is delivered by the West Yorkshire Combined Authority and  funded by the European Regional Development Fund for England.
As the world around us changes and evolves, innovation becomes increasingly vital for growth and survival. We saw this in the pandemic, Brexit, and we see it now with the cost of doing business. How businesses adapt and change creates their blueprint, their DNA.
What if Blockbuster Video had commercialised online film streaming first? What if Apple had continued on the same trajectory of 1996? Apply these questions to your business, if you stay the same, if you don't innovate – then what? Or, what if you do innovate – where could that take you?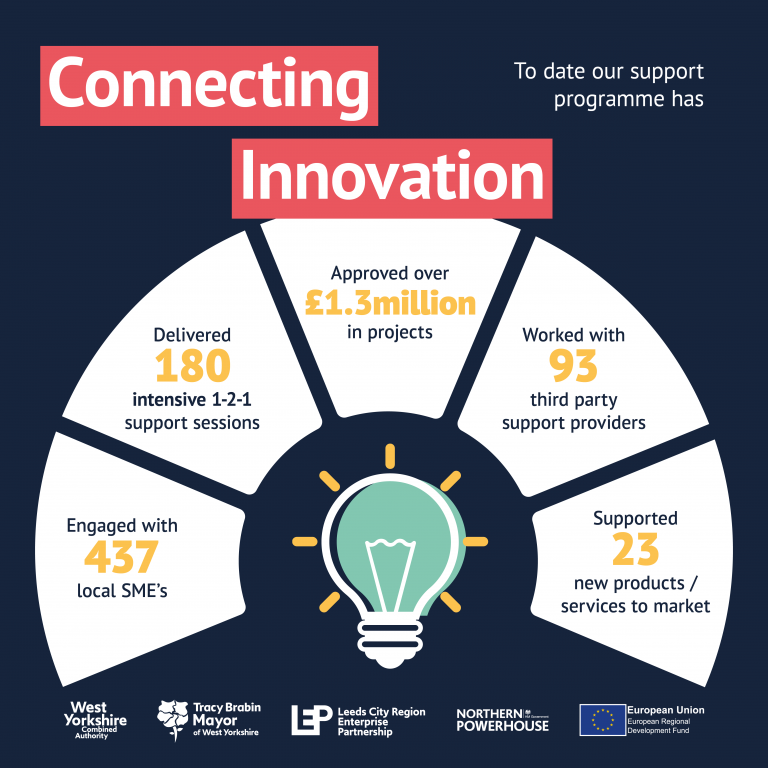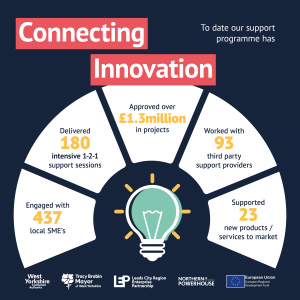 Empowering your business
Innovation is not limited to products or services, it can spark from anywhere and in any part of a business. Connecting Innovation is the key to unlocking these opportunities in your business.
Once on the programme, you'll have access to our team who will guide you through the process. Not only are we experts in our field, but we're well connected – from incubators and accelerators to research organisations and advisory services – we know the local landscape better than anyone, which means you will too.
But that's just the beginning. Need an industry expert? We can put you in touch with someone. Want to speak with someone who's been through a similar process? We can help you make those connections. That's the beauty of Connecting Innovation – we're so deeply embedded in the local business ecosystem that you'll have a vast pool of support and expertise at your fingertips.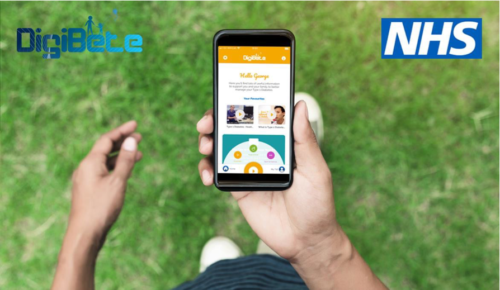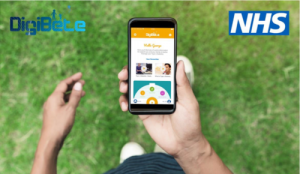 "We started working with the Connecting Innovation team to explore the support available locally to help develop two way communication in our existing app. We discovered so much from them, and went on to successfully apply for, and be awarded a Kickstart Grant which has enabled us to bring the two-way communication technology to our app much, much quicker." John Hughes, Director at DigiBete CIC.
Are you ready to get started?
This support ends in March so there is no time to delay. Get in touch with our team and get the ball rolling. Email: innovation@the-lep.com.