Why proximity holds the keys for long term communities
Rob Gill, Head of Acquisitions at single family rental developer and operator Casa by Moda, explores the role of proximity in creating communities and outlines how its neighbourhoods create a sense of place that allows residents to thrive for the long term.
When looking for a new home, there are many considerations for would-be residents – from the design of homes to include flexible living areas and access to green space, to embedding into existing communities with local amenities, infrastructure and public services close by. Often, these factors can provide essential inspiration for prospective residents to make their big move. 
The relationship between proximity and community, in particular, has been highlighted by recent discussions across the media about 15-minute neighbourhoods – places where residents have key amenities, services and transport links all within a short distance from their home. A recent survey by YouGov, found that 62% of UK residents were supportive of the concept, which is now being implemented across the globe.
The sense of convenience is typically associated with city centre living. However, there is a growing segment of the market that wants this convenience, but also wants to enjoy the benefits of a suburban lifestyle. 
Analysis from Experian shows increasing numbers of people are relocating to outside of city centres. Rental demand for suburban locations alone has increased by 55% post-pandemic, and with a lack of quality rental properties, rents are reported to have jumped by 11% in suburban and rural areas.
It's a trend that has been facilitated by remote working models and driven by many people's desire to have access to more outdoor space; according to the People and Nature Survey, 45% of adults spend more time outside than they did pre-pandemic, and 39% specified that wildlife and nature were 'more important than ever' to their wellbeing.
While people may move out of the hustle and bustle of city living, they often don't want to miss out the convenience, lifestyle and sense of community that comes with living in vibrant neighbourhoods. In many cases, the ability to socialise with their neighbours, connect in their immediate community and then travel back into the city centre easily when required remains important for suburban residents. 
That's why at Casa by Moda we are committed to creating next generation neighbourhoods which meet these demands, providing high quality homes for thriving suburban communities, both now and in the long term.
Our customers are looking for well-connected locations, close to key cities, thriving towns and regional growth hubs. It's vital that we heavily research the local vicinity when looking into land opportunities, ensuring that all our neighbourhoods are located no further than 40 minutes from city centres, with access to convenient public transport and commuter links. We also ensure there's ample nearby amenities such as primary and secondary schools, healthcare services and retail facilities such as supermarkets. 
All Casa neighbourhoods also have access to green space as standard, with some providing their own play parks and enhanced wildlife areas. We also provide outdoor communal spaces where we can host community events such as BBQs and fitness classes, organised by our in-house resident engagement team. In addition to this, we empower our residents to connect and socialise via our exclusive MyCasa resident app, where residents can curate their own their own community clubs, forums and groups.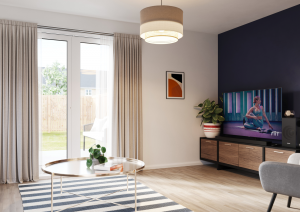 Beyond simply connecting our residents, we go one step further by taking an active role in bringing our rental neighbourhoods to life. That's why we'll be working with national partners and local businesses across the communities we develop in to deliver events based around pop-up food, retail and lifestyle vendors, driving an outstanding rental experience while embedding ourselves into, and supporting, our wider communities.
By offering these opportunities in our immediate Casa neighbourhoods, and ensuring we develop in locations close to major towns and cities, we believe we can harness the power of proximity to enhance and sustain communities for the long term. By doing so, we believe we'll deliver the gold standard in next generation single family rental living.
---
About Casa by Moda
Casa by Moda is the single-family homes platform of Moda Living, the UK's leading developer and operator of rental communities. Launched in 2021, Casa by Moda has a pipeline of 5,000 new homes worth a combined £1.5bn, backed by global institutional capital.
Casa's vertically integrated model designs, builds and operates next generation spaces to live, work and play. As part of the Moda Living group of brands, which has a pipeline of over 20,000 homes worth £6.5bn, it continues to push the boundaries of style, service and innovation to craft considered, diverse residential communities providing different products at different price points for different lifestyle requirements.
Moda's core brand foundations focus on outstanding customer service, integrated technology and health & wellbeing to provide an optimum rental experience and a better quality of life.