People: Clarion; NG Bailey; Raworths; and more
Clarion's 13-strong commercial and IT law team is continuing to expand with the appointment of a fourth associate, Kate Imeson.
With experience of advising a range of national and international clients on commercial agreements, Imeson has worked with a well-known grocery retail platform offering external legal advice to in-house counsel.
She has also provided package travel and commercial advice to the travel and leisure industry.
Partner Matthew Hattersley, who leads Clarion's commercial law team, said: "Kate is a very capable commercial and IT lawyer who will be a valuable asset as we continue to build the practice.
"With three partners and four legal directors, we have become one of the most experienced commercial teams in the region and we are committed to developing young talent having also welcomed another two newly qualified lawyers to the team last September.
"Given the complexity of IT and data issues, together with an increasing focus on cost-effective advice, we are seeing demand for our specialist services increase and it is vital we continue to invest in growing the team."
Imeson said: "This is a really exciting opportunity to develop my career with this leading commercial practice.
"As well as working with businesses of all sizes across the UK, the team also works internationally, and I'm looking forward to working with such experienced colleagues."
:::
Ilkley-headquartered engineering and services, NG Bailey, has appointed Jonathan Stockton to the newly created role of chief operating officer.
Clare Salmon, previously group financial controller, has been promoted to group finance director.
As COO, Stockton will oversee and optimise the group's operational capabilities and administration, alongside developing and implementing key business strategies. He will also continue as a group board director.
He has played a key role alongside chief executive David Hurcomb and the NG Bailey Board in driving the group's growth agenda, which included several successful acquisitions within the services business.
Hurcomb said: "It is pleasing to see Jonathan move up into this newly created and strategic role.
"He has been an important part of the senior team since joining in 2016 and has contributed much to ensure the continued success of the business.
"As a business, we are committed to recognising and rewarding our own talent and Clare's promotion is testament to that.
"It also shows our succession plans are working and that colleagues can thrive and succeed in their careers with us.
"Moving forward we have exciting plans across the Group, including a continued commitment to the net zero agenda and making a positive impact in everything we do.
"Both Jonathan and Clare's wealth of experience across the business will ensure we remain at the forefront of the industry."
Stockton said: "I am excited about the opportunity this role presents to deliver important work that further enhances our market leading position and supports our people – the lifeblood of the business.
"I look forward to developing further in this new role and making a positive contribution to our ongoing success."
In her new role Salmon joins the group operating executive. She will manage the financial integrity and day-to-day performance of the business to support and build on the company's financial position.
:::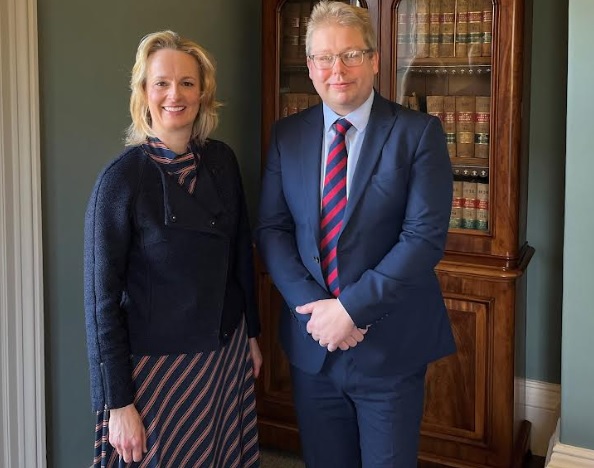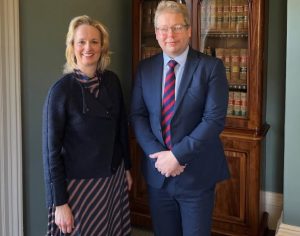 Raworths in Harrogate has appointed Heather Roberts as legal director of its growing Commercial Property team. 
She is a commercial property specialist with more than 20 years' experience acting for investors, developers, landlords, tenants and banks.
Roberts offers a breadth of expertise from investment, development and asset management work to advising SME clients on their portfolio purchases and management.
She joins from her previous role at McCormicks in Harrogate, bringing with her a wealth of knowledge of the local and wider regional market.
Matthew Hill, head of commercial client services at Raworths, said: "We welcome Heather, whose specialist commercial property expertise will be a huge asset to our growing team which has benefited from a raft of new client wins over the past few months.
"There are major opportunities for us to grow our business in this sector, driven by a stronger than anticipated market post-pandemic and growth more broadly across the region where the demand for space continues to surge.
"Heather's appointment is part of a strategic recruitment drive for our commercial team as we look to grow our client portfolio across the region and nationwide."
As part of her remit, Roberts will also work with the wider commercial team including the dispute resolution, employment and corporate and commercial teams.
She said: "I have been aware of Raworths' reputation as a legal firm which builds lasting relationships with its clients, and at the heart of that is the unique way the team can draw upon the skills and expertise of their colleagues across disciplines.
"This approach really appeals to me, and I'm excited to add to the incredible pool of talent here to help grow the commercial property business.
"The firm proactively supports and nurtures the ongoing development of its team at all levels, and I also hope to play a key role in cultivating the skills of our expanding team going forwards."
:::
The Board of East Yorkshire-based chemicals business, Croda International, has appointed Chris Good as non-executive director.
Good will join the Board with effect from 27 April 2023. He has spent his career in the consumer care industry.
He recently retired following more than 20 years at Estee Lauder Companies, a global leader in prestige beauty, with the last five years of his executive career as group president of North America with responsibility for over 25 brands.
He was also a member of Estee Lauder Companies' Executive Committee.
Prior to joining Estee Lauder Companies, he spent over 10 years at Unilever in senior marketing, executive and general management roles across Europe, North America and Asia.
On joining the Croda Board, Good will also be appointed to the Audit, Nomination and Remuneration Committees. 
 Anita Frew, chair of Croda International, said: "Chris' deep understanding of the consumer care industry and in particular his insights into beauty care markets and consumers will be of great value to Croda and the Board.
"As well as having significant P&L experience, Chris also brings a truly international perspective to the Board, having lived and worked in the USA, Switzerland, Japan, Singapore, Russia and the UK with region wide responsibilities for EMEA, APAC and North America during his successful executive career.
"His appointment strengthens the consumer care knowledge and experience we have around the Board table."