City food hall shuts down less than 15 months after launch
A food hall established in a prominent Hull property has closed its doors.
It created dozens of jobs and included cafes and bars along with stalls selling local produce and performances by local musicians.
Operator Artisan Food Hall HoH Ltd said the closure was "hugely disappointing" and "a huge loss for Hull". It said it had been committed to the food hall, adding it still hoped to try and revive the venture in a new location in the city.
A spokesman for the business told the BBC: "It's hugely disappointing, a huge loss to the community, visitors to Hull, the public and our suppliers in Yorkshire, the loss of jobs, salaries gone, and millions of pounds invested.
"We thank the town for their support and hope to secure a new location soon, in order to continue the journey; landlords, please get in touch if you have a building we can relocate to."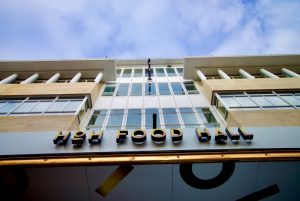 Artisan said it employed more than 150 people and had invested in the property to create what it called "a successful operation."

Its spokesman added: "It was on track. It was a success story in every way, with more than 300 wines, the deli counter, the vinyl bar, live music by talented local artists."

Today's confirmation of the closure followed doubts about the future of the venue, with concerns about declining customer footfall.

The doors closed earlier this month, with managers initially saying this was only a temporary measure.

ResQ, which is a call centre on the first floor of the former department store, is understood to be operating as normal, along with other companies renting office space in the property.

\

'); } } }); googletag.enableServices(); }); googletag.cmd.push(function() { googletag.display('div-gpt-ad-1455904060045-0'); }); googletag.cmd.push(function() { googletag.display('div-gpt-ad-1455904060045-1'); }); googletag.cmd.push(function() { googletag.display('div-gpt-ad-1455904060045-2'); }); googletag.cmd.push(function() { googletag.display('div-gpt-ad-1455904060045-3'); }); googletag.cmd.push(function() { googletag.display('div-gpt-ad-1455904060045-4'); }); googletag.cmd.push(function() { googletag.display('div-gpt-ad-1455904060045-5'); }); googletag.cmd.push(function() { googletag.display('div-gpt-ad-1455904060045-6'); }); googletag.cmd.push(function() { googletag.display('div-gpt-ad-1455904060045-7'); }); googletag.cmd.push(function() { googletag.display('div-gpt-ad-1455904060045-8'); }); })