Northern leaders pile pressure on Sunak to commit to HS2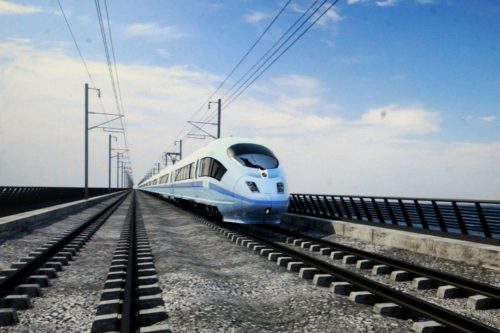 A host of Northern business and political leaders have accused Prime Minister Rishi Sunak of damaging Britain's reputation as a place to do business by allowing uncertainty to "plague" the HS2 project, amid fears the Government is on the verge of scrapping the Northern leg.
More than 70 have put their names to a letter sent to The Times by The Northern Powerhouse Partnership, urging him to press on with the huge infrastructure project which is ultimately aimed at levelling up the North of the UK and boosting the region's economy.
However, with the link to Leeds already axed and further delays to the project, which has ballooned in cost to more than £100bn, Sunak is expected to announce its truncation in a bid to reel in spending, despite levelling up Secretary of State, Michael Gove, describing such a decision as "very stupid".
He is backed by former Prime Minister, David Cameron, who has urged the Government to stick to the HS2 plan, and his former Chancellor George Osborne, a key architect of the levelling up strategy. Another ex-PM, Boris Johnson, said any plan to restrict HS2 would be "desperate", describing it as "Treasury-driven nonsense".
He told The Times: "This is total Treasury-driven nonsense. It makes no sense at all to deliver a mutilated HS2. We need to connect the Midlands with the North with HS2 because that is the way to deliver Northern Powerhouse Rail.
"It is the height of insanity to announce all this just before a party conference in Manchester. It is no wonder that Chinese universities teach the constant cancellation of UK infrastructure as an example of what is wrong with democracy."
The letter to the Times, including the signatures of Manchester Airports Group chief executive, Charlie Cornish, Chris Oglesby, boss of Manchester property giant Bruntwood, Emma Degg of the North West Business Leadership Team, former footballer, now property developer Gary Neville, and the region's chambers of commerce, states: "History has shown time and again that a commitment by the Government to investing in major infrastructure pays dividends."
Henri Murison, chief executive of the Northern Powerhouse Partnership has said: "I met with Rishi Sunak after he convinced Boris Johnson to make NPR (Northern Powerhouse Rail) his top domestic priority. I don't believe a man of honour or integrity would do this. It seems strange he's forgotten about what he believed before he became Prime Minister.
"The new Birmingham to Manchester line is the equivalent of 18 lanes of motorway in capacity, but destroys a lot less nature and habitats than that would. I can assure you that it's going to end up costing us more than what they save in cost of new roads we need for extra lorries and car journeys."
Chris Fletcher, Greater Manchester Chamber of Commerce's policy director, said: "Once again the North has been promised the earth but all it seems we'll get is scorched earth."
Jurgen Maier, former Siemens UK chief executive, said: "The business community is in total shock and investor confidence is as low as I have ever seen it in my long years of engaging with our government."
The Government has to decide the future of HS2 in the next few weeks so fiscal watchdog, the Office for Budget Responsibility, can adjust its forecasts before the autumn statement in November.
Ministers are considering investment in regional connections in the North, such as a new Northern Powerhouse line between Leeds and Manchester.
But Greater Manchester Mayor, Andy Burnham, protested over the weekend that this is precisely the attitude that will kill levelling up, arguing that it seems the North always has to choose 'either, or' instead of the South, which usually receives investments for all its transport upgrades.
He told Sky News: "This was the Parliament that said they would level us up. If they leave a situation where the southern half of the country is connected by modern high-speed lines, and the North of England is left with Victorian infrastructure, that is a recipe for the North-South divide to become a North-South chasm over the rest of this century."
In a further development today (September 25), Mr Burnham and Manchester City Council leader, Cllr Bev Craig, have written to Sunak expressing their concerns over fears the project could be terminated, which, they say, would also affect NPR.
They wrote: "For over a decade, we have worked closely with successive Governments on this project, to galvanise support and maximise the once in a generation opportunity of investment into northern infrastructure it offers.
"At this stage, any change to the current plan for HS2 would have massive ramifications not just for our city region but the North and Midlands too. As HS2 phase 2b delivers key enabling infrastructure for Northern Powerhouse Rail (NPR) between Manchester Airport and Manchester Piccadilly, any cancellation of HS2 to Manchester would effectively be cancelling NPR in its current form too.
"We therefore find it deeply disrespectful to our residents and businesses that we have not been offered any opportunity to feed our views into this process nor have we received any information about what is being considered. We are completely in the dark and that simply isn't right given how profoundly important this is for our part of the country.
"Whilst it is reasonable for any Government to want to ensure HS2 delivers value for money, and that prices do not escalate out of control, the North of England should not have to pay for the Government's mismanagement of the HS2 budget."
They go on to ask for a meeting with the PM before any final decision is taken.
They say: "If you were to agree to that, we would convey to you in the strongest possible terms that HS2 should not be scrapped. We believe the North of England needs new North-South and East-West rail infrastructure and should not be forced to choose between them in the same way that London hasn't been forced such a choice.
"However, if you are adamant on making changes to the scheme, we could be open to a discussion about prioritising the Northern section of the line, between Manchester Airport and Manchester Piccadilly, so that it enables NPR to be built first. This would be conditional on two things: NPR being built in full, with an underground station at Manchester Piccadilly and a new line via Bradford; and a clear commitment that HS2 to Manchester is not being scrapped but re-phased and the protections left in place."