Revenues double at pharma firm as it hails 'ground-breaking' clinical results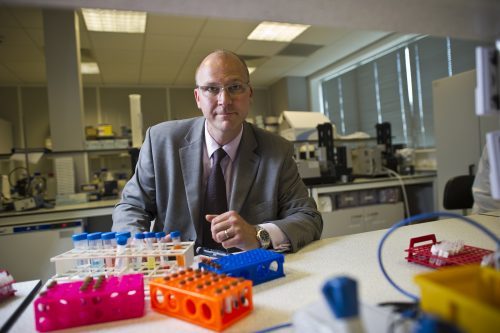 Avacta Life Sciences saw its half yearly revenues double to £11.9m in the six months to the end of June. Its EBITDA losses increased from £5.4m in the first half of last year to £7.9m this year.
The Wetherby firm's AVA6000 continues to perform well in clinical trials – chairman Dr Eliot Forster described the results as "ground-breaking" – and the acquisition of Belgium-based Coris Bioconcept for its diagnostics division will help move that arm closer to profit, the firm said. The therapeutics arm recorded an EBITDA loss of £0.4m in the half, compared to £3.6m loss over the same period in 2022.
Dr Forster said, "Targeting of cancer therapies to tumour tissue has been a long sought after goal for many oncology drug companies, clinicians and patients. There are many potent anti-cancer drugs, the effectiveness of which is limited by the systemic toxicities and lack of tolerability for patients.
"The clinical data emerging for our lead pre|CISIONTM drug, AVA6000, is ground-breaking. We are seeing a dramatic reduction in the usual toxicities associated with anthracycline chemotherapy and we have clear indications that doxorubicin is being released in active form in the tumour microenvironment.
"Across the board we're proud and encouraged by the momentum we're seeing in both divisions of this business and see huge potential value both for patients and investors in the next period."
Chief executive officer Dr Alastair Smith said, "I am delighted to report substantial progress across the board as Avacta's two divisions execute on their strategies.
"In our therapeutics division, the pre|CISIONTM platform is doing exactly what it was designed to do – target the release of active chemotherapy to the tumour tissue, minimising systemic exposure and allowing for dosing at higher and potentially more efficacious therapeutic levels. We are all hugely excited about its potential to deliver profound improvements in cancer care for many patients.
"Not only are the initial safety data emerging from the AVA6000 Phase 1 study, across all dose cohorts, remarkably good, but targeted release of doxorubicin in the tumour has been confirmed both by analysis of tumour biopsies and now by clear clinical responses.
"Even at this early stage and in this patient group, we have a confirmed, significant reduction in tumour volume in a patient with soft tissue sarcoma, as well as other positive signals across a number of patients. This excellent progress means that we are aiming to accelerate the timetable for the start of the pivotal Phase 2 efficacy study in soft tissue sarcoma into 2024.
 "Avacta's diagnostic division also continues to grow and provide more comprehensive capabilities. We have completed a second acquisition, that of Coris Bioconcept, and I am very pleased with the progress and integration of Coris and Launch Diagnostics as the division moves closer towards an EBITDA-positive position."