Property event to bring the heat next week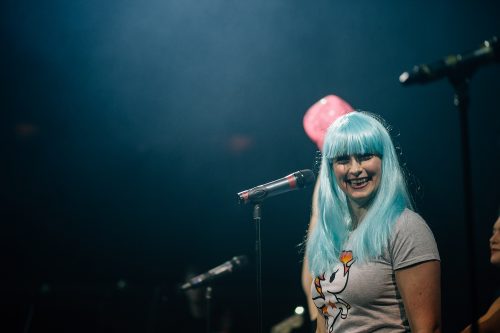 With temperatures dropping this month, it's lucky that Nottingham's hottest property event is just around the corner (8 November at PRYZM) and, with tickets completely sold out, we sat down with the people who help make it happen: Max Kwan of RH Developments, Nicola Millward of Millward Integrated Engineering Consultants and Siobhan Goodacre of Ashton Bond Gigg solicitors.
How long have you been involved with Hot Property and what is your role?
Max: I've been playing at the Hot Property events since 2011 and I'm a trustee of the charity event so am involved with organisation, marketing and promotion, production, fundraising, and of course drumming!
Nicola: I've been involved with the event for ten years – I am a trustee and I sit on the committee. In addition, Millward organises the ticket sales and their distribution. We also organise the VIP sponsors' packages and liaise with the venue to ensure that the event runs smoothly and all guests have a great time.
Siobhan: I have been involved with Hot Property since 2003, I am the chair of Hot Property's board of trustees and I am also a singer, so I have been up on stage many, many times.
What are you most looking forward to about NHP?
Nicola: It's always an amazing night, there's nothing quite like it! I want all guests to have a great time and catch up with some familiar faces – the event continues to be very popular with construction and property professionals.
Of course, the night is all about the music and all the musicians work really hard in rehearsals to put on a fabulous show – it really is great watching each performance and seeing how much the crowd enjoy it.
Siobhan: Hearing the songs in the venue for the first time, it's such a rewarding moment.
What is your favourite thing about the event? 
Max: For a lot of newcomers, Hot Property will be the first time they have ever performed in front of people and to see them grow from their first rehearsal to getting on that stage to perform is fantastic. It takes guts to get onstage and perform in front of all your industry peers and friends, and a big hurdle is actually deciding to take a leap of faith and signing up to be involved.
Thankfully we have a lot of previous participants who are great at telling their Hot Property stories and encouraging others to take that step. I'm very thankful we have a lot of good participants and friends who are out there at the various networking events around the city and further afield who promote the event.
Nicola:  Raising so much money for charity.  The event gets bigger each year and it's very rewarding knowing that so much money is being raised for charity. This year we're on target to raise the greatest amount yet. All the hard work and preparation is worthwhile when I see how much money has been raised. It makes me really proud of the event and my involvement in it. Our chosen charity this year is PASIC.
How is Millward celebrating its anniversary with Hot Property?  
Nicola: We decided to become the main sponsor this year to mark 25 years of being in business and are inviting guests to come along and enjoy themselves in our VIP room.  I'm treating this as a special party to thank people for their continuing support as well as being a part of our 25 year journey. The entire Millward team will also be there – so it's a great chance for people to catch up in an informal setting and have some fun watching live music.
Why did you choose PASIC as the charity this year?
Max: PASIC is such a wonderful cause and we're very proud to be supporting it. It's a charity which makes a real difference to local children and families, helping them to build support networks, reduce isolation and offer financial assistance. Overall, PASIC helps to make a positive difference to families whose children's lives have been impacted by cancer and we are hoping to raise lots of funds for PASIC and make a real difference.
Siobhan: It's a great charity that does an amazing job supporting young people and their families as they go through a very difficult time.
There are eight sponsors this year including: Millward – the headline sponsor – Pulse Associates, Couch Perry Wilkes, Fraser Brown, Samclo Construction, Faithful+Gould, CPMG and Browne Jacobson. Joining these are: Invest in Nottingham, PR agency Cartwright Communications, design agency Blimey Creative and design and print agency Ginger Root. TheBusinessDesk.com is the media partner for the event.
For more information about Hot Property visit www.nottinghamhotproperty.com and to find out how you can become a sponsor or how to get on the gig list for 2019, contact Max Kwan at mkwan@rhdevelopments.com.