Glass firm smashes productivity record to create jobs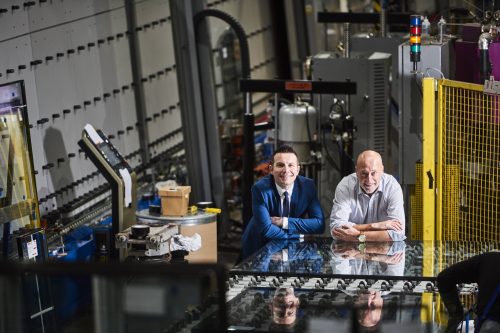 A Nottingham glass company is set to double productivity after hiring five new members of staff following a £500,000 investment.
The Smashing Glass Company was established in 2002 and manufactures glass units for windows and doors across the East Midlands and Yorkshire.
Following increased demand for its specialist glass, the firm approached Lloyds Bank for a £225,000 hire purchase facility to buy a new seaming machine and IGU assembly line without impacting day-to-day cash flow.
The firm also secured an additional £90,000 hire purchase facility to add an additional robotic sealer – a machine used to seal the edges of units. The new machinery is set to boost efficiency by 20% and has doubled the firm's capacity.
The Smashing Glass Company has expanded its 30-strong team and hired an additional five members of staff to meet growing demand.
Simon Ratcliffe, general manager at The Smashing Glass Company, said: "This investment will be transformational for the business. We've experienced rapid growth over the last few years and the new machinery has the potential to double our productivity, meaning that we can complete more orders for more customers.
"The team at Lloyds Bank has been a great support and really taken the time to understand our future growth ambitions. We look forward to working with them again as we continue to expand."
Mel Howard, relationship manager at Lloyds Bank Commercial Banking, said: "This is an exciting next step for The Smashing Glass Company as the firm continues to invest in its products and customer service. It's also encouraging to see it creating new employment opportunities for the East Midlands."