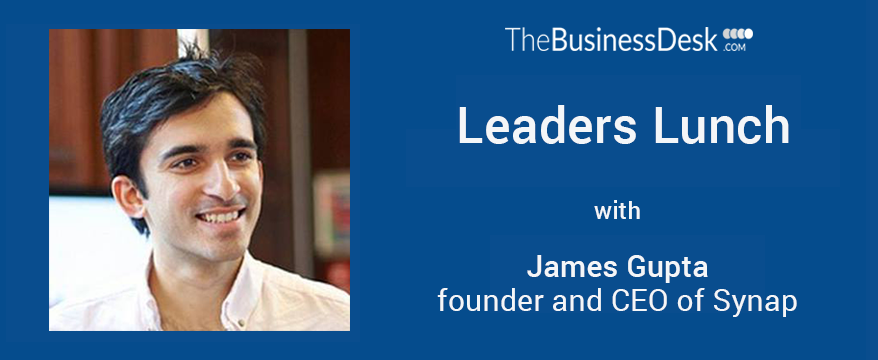 Friday
10 May

12pm – 3pm
£45.00 +VAT
includes a welcome drink and two-course lunch
Bibis Italianissimo
Criterion Place
Sovereign Street
Leeds
LS1 4AG
Event Sponsor:
There are several sponsor opportunities available for this event. Please contact:
Sales on 0113 394 4321 or
sales@thebusinessdesk.com
Join TheBusinessDesk.com's Leaders Lunch to hear from James Gupta, founder and CEO of Synap – a fast-growing EdTech firm with its base in Leeds.
Gupta will talk to delegates about how the business moved quickly from its start-up phase to securing a round of strategic investment. He will reflect upon his own journey, give insights on what worked well and how he led the business to overcome challenges.
Having developed Synap during his own time at Leeds University, as a way to help prepare for his own exams, Gupta knows how to lead and spin-out ideas to make commercially viable decisions which allow business to thrive, grow and succeed.
Synap is incredibly popular amongst students, being used by 1 in 4 UK medical students last year. But over the last 18 months, Synap has grown beyond medical education, into a powerful Learning Management System that lets SMEs, Corporates and Universities deliver personalised training at scale.
The firm can now name The Medical Defence Union, LNER and Daimler among the many companies it works with.
When he graduated in 2017, Gupta and his co-founder Omair decided to move into the business full-time, securing investment and expanding their team within Yorkshire. At this Leaders Lunch, Gupta will share how he and the team have shaped the business in an increasingly competitive environment and why he feels the Leeds City Region is the right place for the firm to continue its growth journey.
He will also share his ambitions for the future and his thoughts on the tech sector boom that has been widely talked about across the region.
Join us for what promises to be an informative session hearing from one of the region's rising stars who is right at the cutting edge of tech.