East Mids university lands slice of £5m space industry funding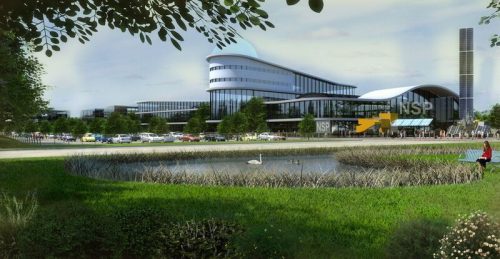 A consortium of UK universities and agencies has been awarded nearly £5m from the Research England to fund research and innovation in the UK space industry.
Government ambitions for the UK space sector target 10% of a global space market of £400bn by 2030.
The Universities of Leicester, Southampton, Surrey, Edinburgh and the Open University, which together form part of the Space Research and Innovation Network for Technology (SPRINT), have received the £4.8m Connecting Capability Fund (CCF) grant to support SMEs working with Higher Education.
Partners involved in SPRINT include the UK Space Agency, the Satellite Applications Catapult, Seraphim and the Science and Technology Facilities Council.
Dr Graham Turnock, chief executive of the UK Space Agency said: "Our growing space sector depends on the success of technology and expertise that comes from the world-class research carried out in the UK.
"The UK Space Agency is working hard to ensure the benefits of space are felt across the whole of the country, as part of the Government's Industrial Strategy. The SPRINT programme has our full support – it will help smaller businesses tap into the world-class knowledge of some of the UK's leading universities, giving them a real boost and creating new jobs."
The University of Leicester says SPRINT "aligns strongly" with its Higher Education Industry Funding (HEIF) strategy and its flagship Research Institute, the Leicester Institute for Space and Earth Observation (LISEO), and work which will take place at Space Park Leicester.
Space Park Leicester is an initiative to develop a global hub and collaborative community based on space and space-enabled technologies. Based in Leicester, adjacent to the National Space Centre, the Park's first building is expected to be ready in 2020. It is part of the Leicestershire Enterprise Zone and was formally launched in March 2017 as part of the Government's Midlands Engine strategy with an allocation of £12.87m and £10m from the University.
Professor Martin Barstow, pro-vice chancellor, strategic science projects at the University of Leicester, said: "I am pleased to be working with all our partners in this exciting national project, which will transform the engagement of Universities with space and space-related industry. The project will provide small and medium-sized companies with direct access to our expertise and facilities, helping them to grow in an increasingly competitive and challenging environment. It will also make a major contribution towards UK Government aspirations to take a £40 billion share of the anticipated growth in the world-wide space economy."
Professor Paul Boyle, president and vice-chancellor of the University of Leicester, said: "We are pleased that Leicester has played a significant role in developing this partnership between a number of outstanding universities and space businesses. Our illustrious space scientists have a long-held reputation for conducting world-class research. This award is evidence of the deep partnerships that they have forged with industry, which will be vital if the government's ambitions for the space sector are to be achieved."