Library plans revealed for new Broadmarsh development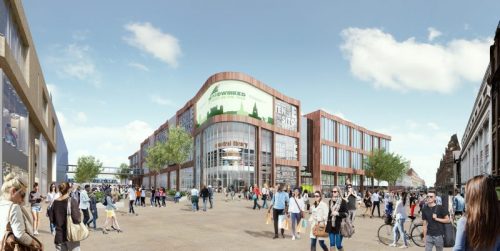 Nottingham's new Central Library could be part of the new Broadmarsh area redevelopment, it has been revealed.
Nottingham City Council has launched a public consultation on the idea that will run until 11pm on 16 September.
The demolition of the old Broadmarsh car park and bus station has been completed to make way for shops, cafés, a modern car park and bus station. But instead of just more shops, the council is now proposing that this new development could house a new Nottingham Central Library.
Councillor Jon Collins, Leader of Nottingham City Council, said: "We want to provide a bright, new Central Library. Nottingham is a UNESCO City of Literature. We have a rich literary heritage and children's literacy is a big priority for us. We want our children to have access to books, learning, imagination and ideas. That's why we're ambitious to build Britain's best children's library as part of a new Central Library development.
"When the redevelopment of the Angel Row site was first proposed, we committed to consult on any plans and now we're asking Nottingham people if they think a new Central Library is a good idea. We also want their views about what a future library should be like. We want to build Britain's best children's library, so we are also asking children to send us their designs for their dream library. I'm sure we're going to get lots of creative ideas."
Subject to the public consultation, the Council says it will submit a planning application for a new library on the Broadmarsh area in the Autumn.
In late 2016, Nottingham City Council sold the city's Central Library to Henry Boot Developments. Reports suggest that Henry Boot paid around £4m for the site, which it said at the time it would turn into 120,000 sq ft of Grade A office space.