On the move: the latest East Midlands hires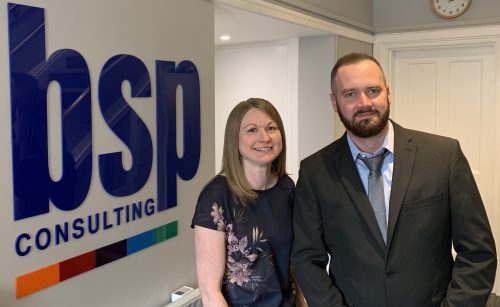 Two professionals who have spent all or the majority of their careers at East Midlands civil and structural engineering firm BSP Consulting have been promoted to senior roles at the company.
Joanna Posnett and James Payne have both been appointed as associates at the Nottingham-based company, which also has branches in Derby, Leicester and Sheffield.
BSP Consulting director Mark Rayers said: "Jo and James have both been with us for many years, and we are grateful for their ongoing efforts and commitment to BSP. They both thoroughly deserve their associate positions, having stepped up in their areas of responsibility and taking on wider remits over the last year or two. It will be great to have them on the management team."
Andrew & Co Solicitors has appointed two new staff to its Wills & Estate Planning and Employment & Dispute Resolution teams.
Solicitor Alison Elwess commenced her legal career in 2004 initially working across sectors, including conveyancing and commercial, before specialising in private client work.
In her new role at Andrew & Co, Alison will deliver support to clients in dealing with their wills and powers of attorney. She will also be advising on estate planning including issues relating to the payment of care fees and inheritance tax.
Also new to Andrew & Co Solicitors is Nigel Bescoby, who was previously head of litigation at a Lincoln firm of solicitors for 16 years.
Nigel started his career in law after leaving school at 16, working his way up to Chartered Legal Executive status.
Over the past 20 years Bescoby has specialised in dispute resolution, acting for both private individuals and corporate clients.
As part of Andrew & Co's Employment and Dispute Resolution team be will be working on landlord and tenant matters, contested probate claims, boundary disputes, general contract and consumer matters.