Iron Man Mark's charity work is a marvel for Forever Stars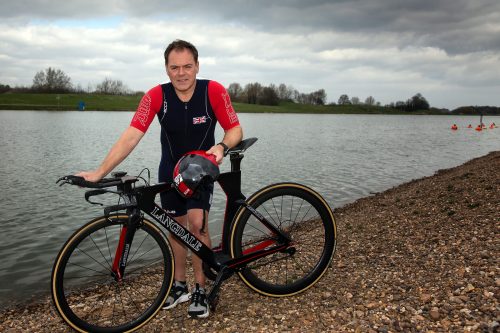 A well-known Nottingham businessman is taking on several sporting challenges – including two half Ironman triathlons – this year, as he seeks to raise thousands of pounds for local baby loss charity Forever Stars.
Mark Goldby, who in March of this year sold his business interests in SMS Electronics, kicks things off by taking on the 'Outlaw Half Nottingham' triathlon at Holme Pierrepont on Sunday 19th May, comprising a 1.2m swim, 56m bike ride and a half marathon run of 13.1 miles,
However, this will just be the start of the challenges for Goldby, who was commissioned as a Deputy Lieutenant for Nottinghamshire in March 2016 for his services to business and his community.
Goldby has several other events planned for 2019 including; a 10K Wolf Run in June, 112 mile Outlaw Triathlon Bike leg in July, the Robin Hood Half Marathon in September and he will be rounding things off in October with a Half Ironman 70.3 mile triathlon in Lanzarote.
It is all part of an intense year of preparation for Goldby, who is combining his training with his roles as a board member of Marketing Nottingham and Nottinghamshire, chairman of the Nottinghamshire Manufacturing Network and Consultant for the Dept for International Trade as he sets his sights on an even bigger challenge within the next two years, a cross-channel swim.
"I like a challenge," he said. "Setting goals and pushing yourself can be an everyday thing in business so this all feels kind of natural to me if I'm honest. I have always been fairly focused, which has helped my business career and it is now helping me prepare for these challenges."
"What I am now hopefully able to do is to help make a real difference by raising money for great causes, Forever Stars being one of them, who I feel a strong connection with. The work they do and the facilities they have helped to fund have always impressed me and now I want to help them fund their incredible Remembrance Garden project at Highfields Park.
"I really hope to raise lots of support and of course some invaluable donations, which I hope will make a major difference to them and the many families they support across the East Midlands."
Founded by Nottingham parents Richard and Michelle Daniels, Forever Stars is an East Midlands charity dedicated to supporting families who've suffered a stillbirth or infant loss.
In 2013, Richard & Michelle were dealt one of life's hardest blows when their beautiful daughter Emily was stillborn. They went on to found Forever Stars in Emily's memory. Together they now work tirelessly to raise the necessary funds to build facilities and to improve care for parents who also find their precious child has gone too soon.
The Forever Stars Remembrance Garden will aim to help bereaved parents of stillborn babies and early baby loss by creating a place of "focus, relaxation and reflection for families".