Back to work guide: Planning for post-Covid-19 return to the office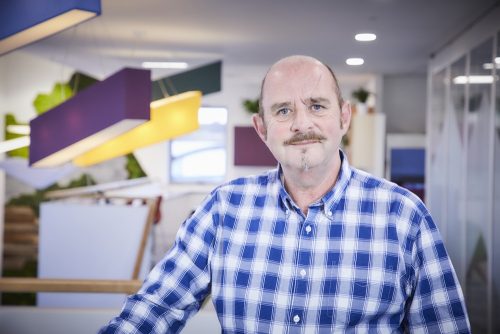 Last week, Rob Day from workplace consultants and office fit-out specialists Blueprint Interiors was an expert panellist in our webinar 'Planning for the office of the future'.
Over 400 delegates took part in the discussion and it was clear that there was an appetite for more information and advice. The team at Blueprint Interiors has produced a 'back to work guide' in order to give businesses some tangible guidance on how to safely return to the office in the short-term, and how this will affect workplace layouts and culture in the long-term.
A detailed copy of the guide is available for download from the Blueprint Interiors website, but to give you a taster, we explore some of practical steps that you can take to uphold the new requirements around social distancing and hygiene by considering changes to the physical space, and new policies that could be adopted.
WHAT CAN YOU DO NOW?
The workplace was never designed to mitigate the spread of a disease, but now we need to adapt and change.
The dominant characteristics of the pre-COVID workplace were designed to support new ways of working and high levels of human interaction to fuel creativity, innovation, speed and agility.
The degree of openness, density and mobility will vary from one organisation to the next, but within these spaces, air and pathogens can travel freely, increasing the likely hood of spreading infections.
It's therefore important to put safety first.
In order to get people back to the workplace, employee safety and wellbeing must be top of the list — people need to be safe and feel safe.
Wellbeing happens when physical, cognitive and emotional health is all taken care of, and safety is foundational to all three. So companies need to take action to ensure that:
Physical health: People can work in places where they are able to stay healthy overall and minimize exposure to pathogens that cause illness.
Mental health: People are not in fear for their personal safety because that distracts them from being focused and productive.
Emotional health: Everyone needs to feel safe at work. They need be confident that their employers have done everything possible to create a safe environment — especially for those who may be at higher risk.
STEP 1: SHORT TERM – PLANNING FOR A RETURN TO WORK
As companies look for guidance on how to bring their people back to the office, the best approach balances a mix of remote work and the adaption of existing spaces.
Before deciding what this looks like, we would encourage all organisations to engage with their people both collectively and individually. Discussing how they are feeling about a return to work and what they've learnt from their time at home will help you develop your strategies and enable you to support them going forward.
Short term: Adapting the office space
Many workplaces have shut almost completely during lockdown. Vulnerability or home commitments will mean not everyone will be able to return to the office just yet.
This fact, coupled with people returning in waves or shifts will help reduce density in the first instance – say to 50% occupancy – allowing you to apply a common sensed approach to adapting and adopting new ways of working.
This approach should include these steps:
Reduce density
Change geometry
Add division
Breakout areas
Change meeting spaces
Collaboration devices
Use visual cues
Visual examples and floor plans for adapting social and meeting spaces are available in the back to work guide PDF download.
STEP 2: BEFORE YOU BRING PEOPLE BACK – PLAN AND PREPARE
Before reopening, plan, create and prepare to reinforce your policies for physical space, employee protocols and communication, sanitisation and disinfection and use of PPE.
Consider setting-up a Pandemic Response Team (PRT); a cross-functional team led by a workplace manager to address the health and safety of employees returning to work. They will develop protocols and train leaders and teams prior to the return to the workplace.
As we all learn more about how to prevent the spread of the virus and as protocols need to change, have a plan in place to communicate evolving guidelines.
Here are some good places to start…
Protocols
Engage with employees
Schedule the return
Develop illness protocols
Stagger schedules
Communication
Develop and deliver safety training
Host first-day training
Clear signage
Sanitisation, Disinfection and Protection
Develop the baseline
Keep it up
PPE usage
STEP 3: Long Term – Not just adapting, but changing
As we are able to ramp back up and bring more people back into the workplace – say to 75% occupancy – businesses may need to reconfigure or redesign their spaces to accommodate increased numbers.  Due to the nature of you services, this may apply to your organisation from day one.
Conclusion: Planning for the future
The above is just a snapshot of the full article that is available to read in full on the Blueprint Interiors website. The full article has much more detailed advice as well as the option to download the back to work guide which includes suggested workplace layouts to help you meet the guidelines.
Workplaces will need to be designed to mitigate the spread of disease, but they need to go further as people's attitudes and expectations toward privacy, health and safety shift.