Developer reveals plans for new HQ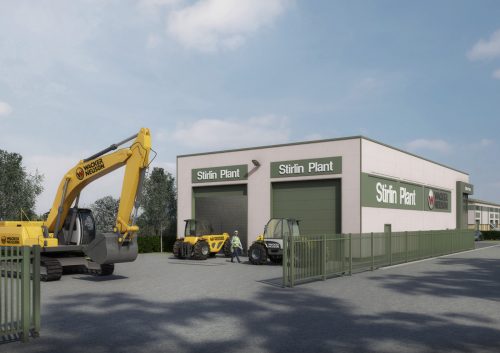 Developer Stirlin has submitted a planning application for for a new HQ building in Saxilby, Lincolnshire.
The application to West Lindsey District Council seeks planning consent for a 5,000 sqft and office facility, to be located on Stirlin's existing Riverside Enterprise Park development.
The building will act as the company's new headquarters, providing accommodation for all companies within the Stirlin Group.
The Group includes the firm's plant machinery division, Stirlin Plant, its residential property division, Homes by Stirlin and commercial property division, Stirlin Developments.
Due to significant growth since their dealership agreement with global brand, Wacker Neuson, the new building and yard will provide a 63% increase in accommodation for Stirlin Plant.
James Kirby, managing director of Stirlin Group, said: "We are so excited to have submitted planning for our new headquarters. Due to the residential site and various commercial sites that we are developing in the area, the location makes perfect sense for us. We are also committed to providing new local services such as the footpath between Saxilby village and our Saxilby Enterprise Park development."
"The consolidation of facilities will allow the Group of companies to share staff and resources in a new 'hub' working environment – an idea that has been successfully developed and trialled with our team throughout the pandemic. We are very much looking forward to the new opportunities that this new premises will bring to the Stirlin Group if planning approval is granted."