Plans to turn retail units into flats voted through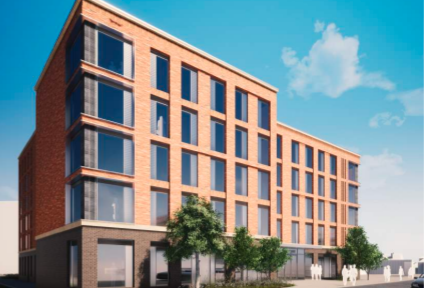 Plans from developer Cassidy for a new student accommodation scheme in the Lenton area of Nottingham have been voted through by Nottingham City Council's planning committee.
The development, designed by Maber, will sit close to the University of Nottingham's Jubilee Campus at 2a Triumph Road. The site currently includes a terrace of single storey retail units which front onto Triumph Road, occupied by a café and motorcycle shops. There is also a single storey industrial outbuilding and garage at the rear of the site, currently used by a taxi rental company.
Cassidy plans to demolish all buildings on the site and construct a student accommodation scheme which would house 169 people across 25 cluster flats and 34 studio apartments.
There will be storage space for 76 bikes in the grounds of the development.
A planning statement from Maber reads: "The aim is to create a high quality contemporary design with a distinct identity. The elevations are simple but elegant in design, constructed in a restrained palette of high quality, durable materials."