SuperBike Factory launches new apprenticeship scheme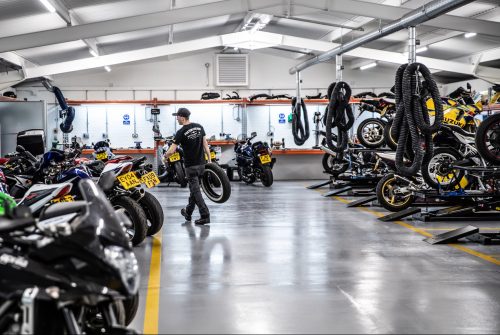 SuperBike Factory is launching an apprenticeship scheme focused on the maintenance and servicing of motorbikes.
The Cheshire-based business is Europe's largest used motorbike retailer, with showrooms in Macclesfield and Donington.
It said the apprenticeship scheme which launches this week, is in partnership with EMTEC, Nottingham College's automotive brand, and is aimed at solving an historic issue for the sector ,in the lack of a structured training programme for aspiring motorcycle technicians, working across a range of brands.
SuperBike Factory says through the launch of a fully accredited programme, it has the ability to offer the volume repetition and variety of bikes, along with the necessary support, to offer exclusive, first-class workshops to develop top quality technicians.
The initial cohort of apprentices – including school leavers and mature students – will learn to service and maintain a wide range of motorbikes on scale, from Aprilias to Yamahas, from 125cc to 2000cc bikes.
On completion of the scheme, the apprentices will be eligible to apply to join the Institute of the Motor Industry (IMI) Professional Register, a register of qualified time-serving individuals in all aspects of the motor industry, which provides verification for the wider public and employers that each apprentice is fully qualified.
Scott Behrens, SuperBike Factory CEO and co-founder, said: "The UK motorcycle industry is historically fragmented with consumers consistently underserved due to a lack of well trained, experienced technicians.
"With the launch of our apprenticeship programme, SuperBike Factory, in partnership with Emtec, is looking to change that, establishing the training and support structures necessary to equip the next generation of quality technicians."
He added: "We're delighted to be welcoming eight new apprentices to the SuperBike Factory family and we hope to welcome a second cohort of recruits in September this year."
Lisa Wilson, executive director for employer services at Nottingham College, said: "We work with some of the world's most well known and leading automotive brands and are proud to be working in partnership with SuperBike Factory to provide their apprentices with first class training.
"We are looking forward to partnering with a business that is leading the way in modernising motorbike retail and are eager to welcome our first cohort of apprentices on to the programme."
SuperBike Factory was founded in 2010 and the company currently employs more than 250 people.
The eight first apprentices are expected to join the SuperBike Factory family when they have graduated from the scheme, helping to service and retail the more than 2,000 motorbikes that the company has in stock at any one time.
SuperBike Factory expects to launch a second round of the apprenticeship scheme in September 2022, with up to an additional 12 apprentices taking part.