Developer acquires Pride Park and announces takeover bid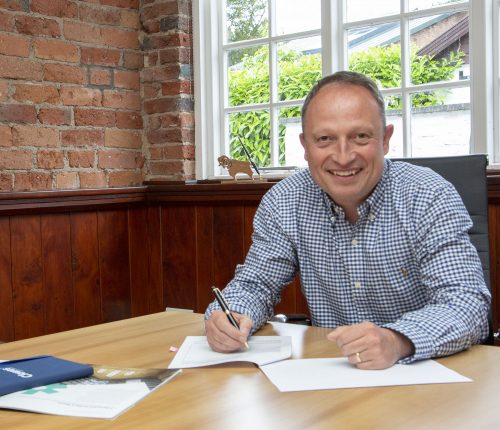 Clowes Developments has officially announced its intention to purchase Derby County FC.
The Derbyshire-based developer will submit a formal bid to buy the Club today after acquiring the company that owned Pride Park Stadium from former Rams owner Mel Morris.
Clowes has also issued an interim loan to the Club which will enable it to start next season and trade while the takeover deal is finalised.
David Clowes, chairman of Clowes Developments and a lifelong supporter of the Club, said: "With a deadline looming and the start of the next season getting closer, we needed to do something.
"As a local and established property company, purchasing the stadium seemed the obvious first step. Secondly, as a proud Derby supporter, it was inconceivable to me that the Club was at risk of falling away. We've worked tirelessly behind the scenes on the stadium purchase and loan agreement to be able to get the Club going again in time for the next season.
"Players, staff and fans needed some good news, and we are delighted to play a part in delivering that.
"It is intended that this step forward will help to alleviate some of the growing pressure, allowing more time to make the right decisions for the future of the Club. The acceptance of our offer and swift completion of a deal will also allow the Club to get ready for the upcoming season.
"Derby County can then start rebuilding a full team, confirm contracts, prepare for fixtures and allow the commercial aspects of the business to get going and start bringing in the much-needed income for the Club. Staff can plan for the next season and arguably, most importantly, dedicated fans can purchase their tickets."
As we reported this morning (24 June), the Pride Park deal is thought be worth around £23.5m.
A spokesperson on behalf of the joint administrators of Derby County FC said: "The joint administrators are very pleased to be able to confirm that following a period of negotiation, Derbyshire based property group, Clowes Developments (UK) Ltd has issued an interim loan to The Club. This loan will allow The Club to start the forthcoming season, and to continue to trade.
"The joint administrators welcome the earlier statement from Clowes, in which it was confirmed that a successful acquisition of the Club's stadium, Pride Park, completed on 17 June 2022 and they look forward to continuing positive discussions over the next day or so.
"All parties recognise the need to conclude a sale of the business and assets of the Club, as a matter of urgency."
The Rams have been in administration since last Autumn and were relegated from the Championship last season. Earlier this month US businessman Chris Kirchner walked away from a rescue deal.