Social housing scheme to exceed sustainability requirements by more than 80%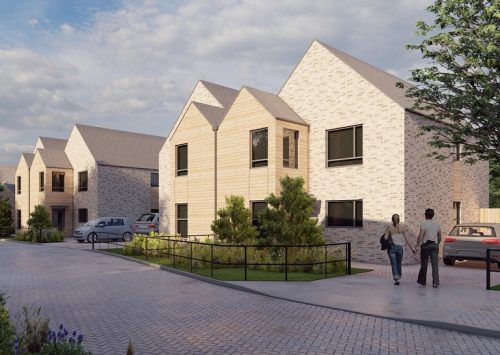 Plans for a new social housing development in the Rushey Mead area of Leicester have been given the go-ahead by the city council.
The 37-home scheme designed by CPMG Architects will include a range of two, three and four-bedroom family homes and a number of one and two-bedroom apartments.
The development on Lanesborough Road is expected to exceed the requirements of standard building regulations by more than 80%, with each property being fitted with an air source heat pump, solar panels and an electric vehicle charging point.
A second phase of 24 additional homes has been proposed which would take the overall scheme to more than 1.4 hectares.
The much-needed homes will provide accommodation for some of the near 6,000 people currently on the waiting list for social housing in Leicester.
Steve Milan, associate at CPMG Architects, said: "We're delighted that this first phase of the Lanesborough Road scheme has been given planning permission. There is a real need for new social housing in the city of Leicester and its surrounding suburbs, so we're particularly pleased to be able to not just deliver much needed homes, but also make use of land that has essentially been edgeland for several years.
"Making sure all dwellings are sustainable in design and operation, the fabric first approach optimises the thermal performance of the building envelope, making best use of natural daylighting and passive solar gain, whilst also avoiding overheating. These highly insulated and airtight homes with their low energy-use fittings will significantly reduce the energy cost for residents."
Milan added: "We've enjoyed working closely with Arcadis and Leicester City Council to develop a design that will delivers attractive, energy-efficient social housing for the people of the city, and we look forward to taking the project forward to successful completion."