On the move: the latest East Midlands hires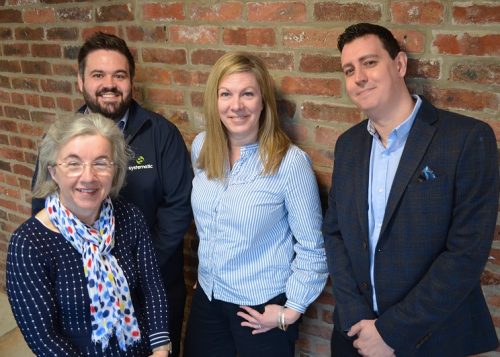 Lincolnshire-based design, print and marketing business Systematic has appointed three new directors after enjoying its most successful year to date.
Promoted trio Ben Crossfield, Jacqui Vear and James Walker will work alongside finance director and MD Sharon Robey to help take the company to the next stage of growth.
Despite suffering the tragic loss of Sharon's husband and managing director Chris Robey earlier in the year, the firm has exceeded its targets and turned over more than £4m for the first time in its 47-year history.
Robey said: "It has been our ambition to reach the four million pound-mark for many years and I'm pleased to say we have finally achieved it.
"As a second-generation business, family values are embedded in everything we do. Our team embodies these values and when Chris and I took over the company from his parents, we wanted to put the staff at its heart.
"Promoting the management team to directors is the first step towards giving our employees a greater and more meaningful stake in the running and success of the business."
Operations director Jacqui Vear added: "This year has been hard for the whole team, but especially Sharon, and I'm proud of the way we've supported each other and not only managed to survive but thrive.
"Our clients, partners and suppliers have been hugely supportive and of course we couldn't have reached this fantastic milestone without them. With Chris very much in mind we're looking forward to the future of Systematic full of optimism in the knowledge that together we can achieve great things.
"We've already got some exciting developments in the pipeline for 2023!"
Systematic said its positive results have enabled it to continue supporting local charities and good causes, to which it donates hundreds of pounds every Christmas.
Leicester-based tax consultancy and SSAS administration firm WestBridge Group has welcomed a pair of account managers and a new senior associate.
Account managers Matt Gardiner and Hugo Witts previously worked in similar roles at Mattioli Woods, while Sian Shade joins WestBridge from Grant Thornton.
She said: "I chose to join WestBridge Tax as they are a recognised provider of quality tax advice and I will get the opportunity to be involved in high quality and challenging projects. The company offers the perfect mix of experience and breadth of knowledge whilst also retaining the personal approach and feel of a smaller firm."
CPMG Architects has made six new appointments at its headquarters on St Peter's Gate in Nottingham.
Dora Farrelly, Cesar Jaramillo, Hope Mumford and Mike Lynch have joined the practice as architectural assistants.
Luke Williams has come on-board as a BIM support technician, Danute Walsh takes on the role of finance assistant while Aimée Mason has joined as an interior design graduate.
Nick Gregory, director at CPMG, said: "We are pleased to see our offices growing in their respective regions with additions to our teams joining at different stages of their development and career in the industry. Our teams and the ethos of CPMG promote an environment that enables progression both personally and professionally, something which we're very proud of."