Labour's pledge to deliver growth for Northern transport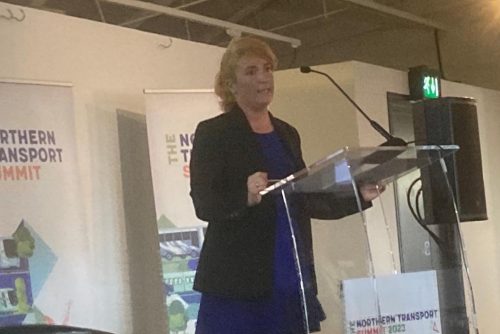 A future Labour government would deliver Northern Powerhouse Rail and HS2, in full.
Shadow Secretary of State for Transport, Louise Haigh, MP for Sheffield Heeley, vowed the Labour Party will rebuild the transport sector, at a key conference in Liverpool's Maritime Museum yesterday (February 23).
The Northern Transport Summit 2023 brought together top business, industry and political figures to examine the state, and future, of the transport sector throughout the region.
Ms Haigh told delegates: "Our transport system is not working and it is holding back growth. We have record levels of cancellations."
She said TransPennine Express's performance is currently being beaten by war-torn Ukrainian railways, while UK rail infrastructure sits between India and Kazakhstan.
She told the conference: "It shouldn't take three hours to travel from Liverpool to Newcastle."
Investment in transport is fundamental, she added, saying: "A future Labour government will deliver NPR and HS2, in full.
"This investment is a down payment on the century ahead and good green jobs of the future."
And she pledged a Labour government will extend powers and control of buses, such as in Liverpool and Manchester, to every region that wants it.
An earlier session posed the question, "what does the North need to build 'world class' transport?"
Martin Tugwell, CEO of Transport for the North, said: "We need to simplify funding to make things easier, and financial devolution. We need greater empowerment, more devolution and more investment for the North.
"We need to come together to deliver what we have got commitments for because there is nothing better when asking for more investment to deliver success than what has been delivered. If we demonstrate success, why wouldn't we be able to demonstrate the case for further investment?"
Sarah Spink, Strategic Partnership Lead with Midlands Connect, said: "We need to share best practice. What works in Carlisle, let's try it in Coventry. We need certainty. We have seen that a lot with HS2. People need to know so they can make plans."
Olympic cycling champion, Chris Boardman, commissioner of government body Active Travel England which opened its new HQ in York this week, told of a visit he made to a school near Ipswich where 61% of its 900 pupils cycle to school, a ratio he said is better than Holland. He said: "This is because they had bike paths that were joined up."
He outlined the positives from such a high level of cycling: "Parents don't have to do a school run and households can go from two cars to one. We have to give people choices that are pleasant, palatable, easy and affordable."
The panel outlined the task required to encourage more active travel with the statistic that there are 12.4 billion more road miles being driven compared with 10 years ago.
Another session asked, "what does the North need to go further, faster and greener?"
Emma Degg, CEO of The North West Business Leadership Team, answered: "We must not allow any politician to talk about levelling up without talking about infrastructure as well.
"We all know what needs to be done. We talk too much about cost and not enough about value. There is a real cost we do not count properly."
Rail Minister, Huw Merriman, gave a keynote speech in which he said his three main priorities are investment, rail reform and decarbonisation.
Referring to the current spate of industrial action, he said: "Unions fail to see that reform isn't only essential, it is existential."
He pledged to monitor poorly performing rail franchises, saying: "I will always hold train operating companies to account for matters that are in their control."
He referred to a recovery plan under way for the Avanti West Coast franchise, but said "there is much more to be done before trust is restored".
What the North needs to level up was the subject of an afternoon session featuring four metro mayors, Andy Burnham (Greater Manchester), Steve Rotheram (Liverpool City Region), Jamie Driscoll (North of Tyne) and Oliver Coppard (South Yorkshire).
Asked what they wanted, Coppard said: "My most immediate concern for my community is active travel. In South Yorkshire our four main cities are surrounded by green space. I want to be able to take buses back under control."
Jamie Driscoll said: "In the North East, obesity is costing us £1.35bn a year. I want government to start accounting for this properly and make funding available."
Mayor Rotheram said: "We need to integrate transport. Improve it and make things better for passengers."
And, speaking directly to Huw Merriman, he said: "The Memorandum of Understanding for the devolution of the Merseytravel system is just waiting to be signed by the Government."
Andy Burnham listed three aims: "Transport for Greater Manchester overbrand, mirroring the model in London, with bus, tram and hire bikes integrated."
His second related to closer oversight of taxis and private hire vehicles: "We want to guarantee all the standards on our transport system, and we can't at the moment."
Thirdly, he said he needs government to say there is going to be a London system for the UK, and not subsidies, with sustainable, long term revenue funding.
A further session, on whether it is possible to build back confidence in the North's railways, led to a common theme of restructuring the rail franchise system and allowing train operating companies the freedom to drive revenues without the say so of Whitehall.
John Thomas, director of policy with Rail Partners, said: "We need to give more freedom to operators to look outwards to customers, rather than inwards to the Department for Transport. We need to find ways for operators to accelerate revenue and passenger growth."
Martin Tugwell highlighted the failing system, saying: "We have all seen full trains coming into a full station, and having to leave people behind. The demand is there. We just need to be able to empower the operators."