Race car manufacturer to move corporate HQ to Donington Park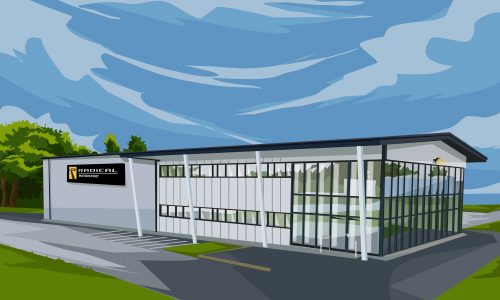 Radical Motorsport, the UK's largest race car manufacturer, is set to open a new headquarters building at Donington Park.
The new facility will be at the main entrance to Donington Park at the former Formula E headquarters. Some 10 staff will be working from the site initially.
The move comes after Radical Motorsport's most successful year in its 25-year history, and will mean moving the firm's customer-facing sales and marketing teams away from its factory in Peterborough for the first time since it was set up.
Radical Motorsport's manufacturing and production base will remain at the Peterborough factory, with customer-facing and commercial departments expanding to the new Donington Park facility. The factory in Peterborough has been home to Radical Motorsport since it was founded 26 years ago in 1997, and the company says it is "fully committed" to Cambridgeshire.
The new Radical Motorsport corporate HQ is set to become a venue for automotive events and a unique meeting space for business partners and corporate reservations. It will be open to the public throughout the year from Monday to Friday.
Joe Anwyll, Radical Motorsport CEO, said: "We looked at a number of non-circuit-based locations in the UK to host our expanding commercial team. However, with British motorsport tracks widely known as being some of the best in the world, we had to take this opportunity, as a British motorsport manufacturer, to be right on the doorstep of the action.
"As well as our expanding team and record production numbers this year, this move to Donington Park will allow us to pursue ventures we've been unable to from our factory. Our cars belong on track, so it's only fitting we be present there too."
Jonathan Palmer, chief executive of circuit operator MotorSport Vision (MSV), said: "I'm delighted that Radical Motorsport has decided to move its corporate headquarters to Donington Park. Since MSV took over the running of the venue in 2018, it's been our ambition not just to create an improved competitor and spectator experience, which we've already achieved through numerous venue improvements, but also to elevate the circuit's standing as a major national hub of motorsport businesses.
"Radical Motorsport is a much-admired and globally recognised manufacturer of sports racing cars, and I'm delighted it's recognised the significant benefits of being based at one of the UK's leading race circuits. With the addition of Radical Motorsport alongside a growing portfolio of businesses, and further developments planned at the estate, including the renovation of Donington Hall as an incredible mansion house hotel, the future for the site is looking very bright indeed.
"I extend a very warm welcome to Joe Anwyll and his team and look forward to seeing the completed facility soon."