RSM reveals new Nottingham head of office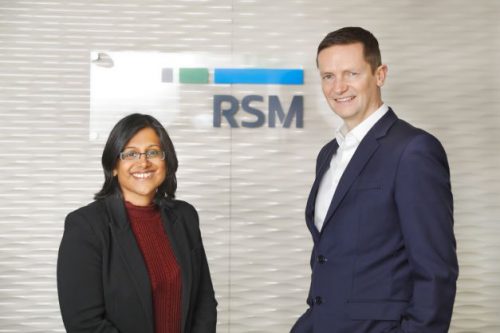 Sheetal Sanghvi, corporate tax partner at accountancy firm RSM UK, has been appointed as the new office managing partner in Nottingham.
On April 1, she will succeed Richard King, who has been in the role at RSM Nottingham for ten years.
Sanghvi, who will head up a 90-strong team, joined RSM as an audit tax assistant in 2005 and has progressed through the ranks to partner. She is head of innovation reliefs in the Central region and was the first person in the firm to get a focused role in this niche area. She has extensive experience in advising a range of businesses, from start-ups to large corporates, across a range of sectors in making significant R&D and patent box claims.
Sanghvi went to school in Nottingham and graduated from Leicester's De Montfort University. She is currently EmbRACE Network lead in the Central region – an RSM initiative to champion race equality. She is "extremely passionate" about creating a diverse and inclusive workplace and works with the wider group to raise awareness of and support on matters of race, ethnicity and cultural heritage, and to provide guidance to the firm's diversity and inclusion steering group on race equality issues.
She said: "For me, this is the next big step in my career at RSM. Having kickstarted my career with the firm as a graduate trainee over 17 years ago, I am just one of the many examples of our 'grow our own' strategy. I have and continue to be very lucky to work in a supportive and collaborative environment where our people have plenty of opportunities to learn and develop, but most importantly be themselves and have some fun along the way.
"I'm looking forward to taking on the challenge of leading our talented group of partners and staff and driving forward the next stage of our ambitious growth plans in my home town."
Mark Taylor, regional managing partner in the Midlands at RSM UK, said: "Firstly, I'd like to say a huge thanks to Richard for his significant contribution to leading the impressive growth of our business in the East Midlands over the last decade.
"Sheetal has enjoyed great success over the last few years in building our innovation reliefs business and I am excited to see her continue to grow as office managing partner. Sheetal has lots of qualities that make her ideally suited to the role – not least, her deep reserves of natural infectious enthusiasm and energy which will drive the future growth of our business in Nottingham and across the region.'
Richard King, partner at RSM UK, added: "I am very proud to have been part of the team that has delivered substantial growth in the East Midlands. The Nottingham office has flourished, and we've strengthened our commitment to the local marketplace. I'm delighted to be handing over the reins to Sheetal, who will undoubtedly take the practice from strength to strength for the benefit of our staff and clients. I look forward to supporting Sheetal throughout the next phase of this exciting journey."