£750m rail hub plans to move forward despite council objections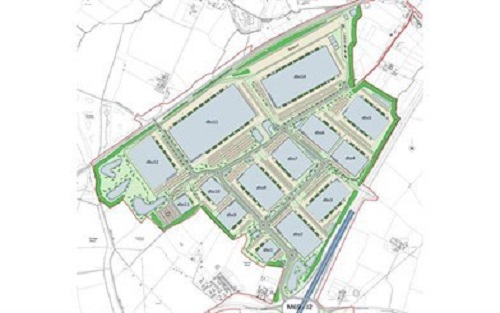 Plans to create a major rail freight hub in Leicestershire which appeared to have hit the buffers last month have now been accepted by the Planning Inspectorate, enabling the colossal scheme to move into the pre-examination phase.
Developer Tritax Symmetry withdrew its application for the controversial £750m Hinckley National Rail Freight Interchange in March after Blaby District Council expressed serious concerns about the project.
Tritax submitted an application to the Planning Inspectorate on 6 February, but was told it had failed to provide a required technical report in its submission documents.
On 21 February, Hinckley and Bosworth Borough and Blaby councils said a consultation over the scheme "[fell] short of what should have been undertaken."
The authorities said there were "deficiencies" in the time and information available during consultations as well as "limitations and gaps in the baseline information provided."
The scheme, earmarked for 662 acres of land between the M69 and the Leicester to Birmingham railway line, falls mainly within the boundary of Blaby District Council, south-west of Elmesthorpe village. It would be based north-east of Hinckley close to Junction 2 of the M69.
Plans for the development include a railport capable of dealing with as many as 16 trains up to 775m long per day, 850,000 sq m of warehouse and ancillary buildings, a lorry park, a new A47 link road and south facing slip roads onto the M69.
The Planning Inspectorate will now begin assessing the proposals.
Stakeholders, including the public, will be asked for their views during the next few months before a six-month examination phase begins later this year.
A final decision on the scheme will be made by the Secretary of State for Transport.
Cat Hartley, planning and strategic growth group manager at Blaby District Council, said: "We are disappointed the Planning Inspectorate have decided to accept this application in spite of our long-held and ongoing concerns. We will continue to scrutinise Tritax Symmetry's proposals and present our views to the Planning Inspectorate as the application process continues."