Annual charity golf challenge on course to achieve £100,000 target – but further donations invited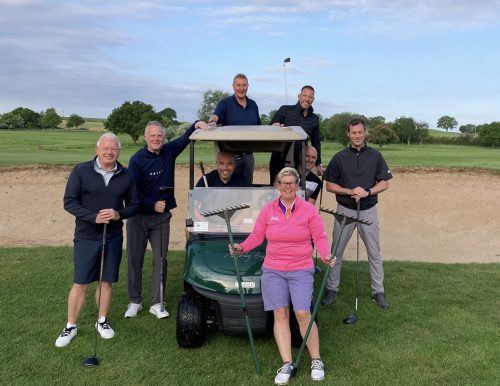 Now in its third year, the annual three bunkers challenge has raised £35,000 of its £100,000 target, and with further donations still being pledged organisers hope this year's £40,000 target will be achieved.
The 2023 challenge was held on Friday 26 May and involved teams from six East Midlands businesses completing 27 holes of golf on three golf courses in Derby, Leicester and Nottingham.
Organised by Bev Cook from Simple Marketing Consultancy, the teams taking part this year were from Shakespeare Martineau, Macildowie Recruitment & Retention, MKM Building Supplies, Fiscal Engineers and Breeze Corporate Finance.
Each team recorded the best two scores from Morley Hayes, Charnwood Forest and The Nottinghamshire and had any bunker shots deducted from their final score. The winning team was Simple Marketing Consultancy represented by Bob Johnson, Jon Steel, Paul Pownall and Bev Cook.
James Taylor from Macildowie said: "I was delighted to be invited to take part in this year's event. It was superbly organised and fun to be a part of. Whilst we took the golf seriously, the most pleasing part was being able to raise money for Big C Little C and help the event get closer to its overall fundraising target."
"Big C Little C" was established in 2018 to encourage businesses in the East Midlands to help bring forward the day when all cancers are cured and all children and young people are free to lead a happy and normal life.
In 2020, Bev Cook, during her year as Lady Captain of The Nottinghamshire, agreed to arrange a golf event called "The Three Bunkers Challenge" based on the format of the "Three Peaks Challenge" and chose "Big C Little C" as her nominated charity.
The event has been held for the last three years and so far has raised nearly £40,000. Bev has committed to hold the event until £100,000 is raised.
If you would like to donate please click here.