On the move: the latest East Midlands hires

Coalville-based construction and building materials firm Aggregate Industries has appointed Kaziwe Kaulule, as the group strategy and commercial growth director.
In his most recent role, Kaulule led the firm's parent company's South African business as CEO to unprecedented success, doubling the enterprise value and achieving profitability within a remarkable 18 months, turning around a trajectory of over five years of losses.
Joining the construction sector in 2004, he served as the CEO of Zimbabwe and held roles in group audit in France, marketing, commercial and strategy across various Southern African countries and spearheaded digital ventures in the UK.
Dragan Maksimovic, CEO at Aggregate Industries, said: "Kaz is distinguished by his ability to build robust teams and drive business growth and commercial transformation in highly competitive markets, particularly in the cement, aggregates, and ready-mix sectors. His strategic prowess is underscored by a proven track record of achieving operational excellence, supervising commercial and production teams, and executing sales, marketing, and retail strategies. I am confident that his appointment will further strengthen the company's position as an industry leader, driving innovation, growth, and sustained success."
Kaulule added: "I am honoured to join Aggregates Industries UK at such a pivotal moment. The company's commitment to excellence and innovation aligns seamlessly with my own values and I look forward to leveraging my experience and working collaboratively with the talented teams here to drive strategic growth and elevate the Group to new heights in the construction and building materials industry."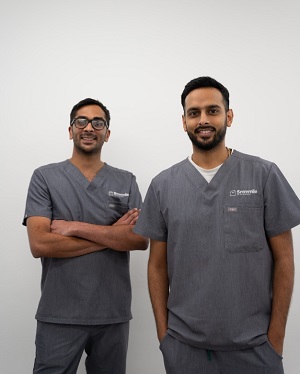 Smmmile, the Invisalign dental clinics, has appointed two new principal dentists at its Nottingham store.
The new appointment of Dr Ghelani and Dr Vallabh in Nottingham brings with it a combined 15 years of experience, with both doctors having special interest in cosmetic surgery and composite bonding.
Ghelani said: "It's no secret that the growing demand for dental care across the UK is causing long waitlists for patients and a real cause for concern for those who are suffering and in need of emergency care. I'm delighted to be taking up my new role as Principal Dentist at Smmmile and to be working for a clinic who's goal is to offer accessible and affordable treatment across Nottingham and be able to play my part and help remedy what could be a national crisis. Whether it's a routine check-up or cosmetically enhancing smiles, I'm passionate about providing the best service for those across Nottingham and changing the perception of dentists. Good oral health is something that everyone deserves and not something that should be feared or come at a great cost."
Vallabh added: "We're both absolutely thrilled to have been appointed as the new Principal Dentists at Smmmile Nottingham. We can't wait to see new patients coming through the doors and continue to offer our expertise and service to help transform smiles in Nottingham."